Side-by-side comparison
Music Critic review products for everyone, from professionals to enthusiasts, and are written in plain English to make it easier to understand the options available and decide between them. Our tests and reviews can help point you towards models and brands that suit your needs. You might also be interested in our article 8 Best Budget Soundbars in 2021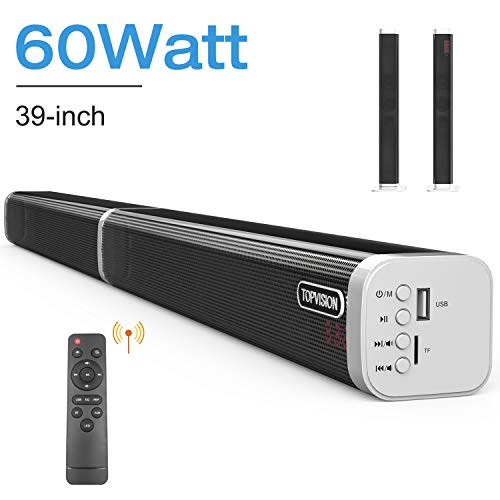 The first product we will be looking at is the TOPVISION Soundbar.

The second product we are looking at in this head-to-head review is the LKE Soundbar Wired and Wireless.
HEAD TO HEAD COMPARISON
TOPVISION Soundbar
LKE Soundbar Wired and Wireless
KEY FEATURES
+ Innovative design.
+ Detailed array.
+ Preset EQ.
+ Wireless subwoofer.


+ Full-range balanced audio.
+ Battery powered.
+ Cheap and cheerful solution.


WHAT OUR TEAM THOUGHT
The TOPVISION is another very commendable low-cost Bluetooth soundbar that provides rich, quality audio over a reliable wireless subwoofer signal.
This is a bargain Bluetooth-ready soundbar option is perfect for smaller budgets and the best for installing in a bedroom setting. Although, you can install this soundbar and subwoofer in your living room if you wish.
Want to find out more?
Check out Music Critic's in-depth article 8 Best Budget Soundbars in 2021 which includes even more information.
Similar Product reviews: