1 on 1 Testing
Trying to decide between two models? You might think it all comes down to the price, but frankly there is a lot more to it. If you would like to see more product comparisons and reviews in this category, click here.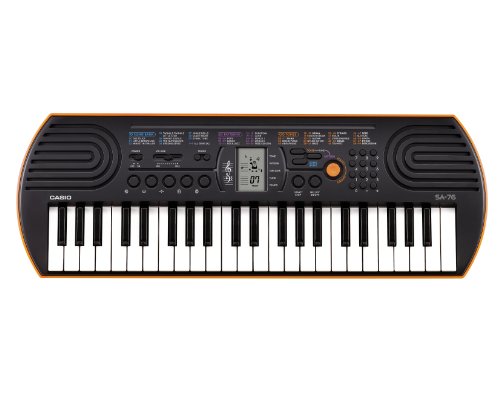 Contestant number one is the Casio SA76 EDP.

Next up is the Hamzer 61-Key. This keyboard from Hamzer is the keyboard for all musicians out there that want to spend as little as possible and are prepared to face the consequences. It is by no means great, but if the only thing you need is to be able to play the keys and have sound come out, it will work. This might sound really bad, but there are actually lots of cases where a musician needs to have a functioning piano at home that doesn't necessarily require amazing sound.
Taking a closer look at the features of the Hamzer 61-Key
One example is if you sing in a choir and need to practice your parts and want to play on the piano to make sure that you're singing right. Another example is if you prefer to tune another instrument to a piano instead of using a tuner, or if you occasionally want to be able to play your main instrument with keyboard accompaniment if a friend or a teacher comes over to your house. It's also really good to have a piano when you study music theory, for example when you learn about chords and practice your listening skills.
HEAD TO HEAD COMPARISON

Casio SA76 EDP

Hamzer 61-Key

KEY FEATURES

+ 44 mini-sized keys
+ Fun for kids
+ Portable
+ Cheap



+ 61key keyboard
+ Cheap (like, really cheap!)
+ 255 sounds & rhythms
+ Integrated learning system

Cons:
• Keys are slightly smaller than regular keys
• Poor sound quality and loud



WHAT OUR TEAM THOUGHT

We would recommend this keyboard for parents that want to give their kids a keyboard to play around with but at the same time upgrade one step from the toy keyboards from the toy shop. This is not a keyboard you would buy for a child prodigy that will become the next Mozart, but rather for a kid that likes music and needs to be encouraged to eventually start taking lessons. It only has 44 keys and they are smaller than average keys, so you won't be able to play any advanced songs on this one. Or well, maybe you're able, but it's not going to be as enjoyable as having a proper instrument. This doesn't mean that it's rubbish, it just means that it fills that step between a toy and an instrument designed for adults. It has 100 different sounds to play around with and 50 rhythms, so it's a good introduction to improvisation.

This is a good option if you want to buy a keyboard for your young kids or simply want to have a keyboard at home for different musical purposes that doesn't require amazing sound, for example in your music theory studies. It's really good that you get a stand and a piano stool with it, so the big things you need to buy in order to get started are already sorted. We think that even if this keyboard doesn't really compare to the Casios and Yamahas, it's still good that keyboards like this one exist, because it means that almost everybody can afford to buy one. It has 255 voices and 255 rhythm patterns, so there's a lot to play around with. The best thing about this keyboard, though, is definitely the price. Who doesn't love a bargain, right?
Read our full review
Check out Music Critic's in-depth article Top 10 Best Keyboards for Beginners on a Budget which includes even more information.
See more head-to-head comparisons of products: