How do they stack up? The Auralex LENPUR LENRD Bass Traps vs the Pro Studio Acoustics Sound Absorbing Tiles
See how the Auralex LENPUR LENRD Bass Traps stacks up against the Pro Studio Acoustics Sound Absorbing Tiles in today's product comparison. The Music Critic reviews can help point you towards models and brands that suit your needs. You might also be interested in our article 10 of the Best Bass Traps in 2023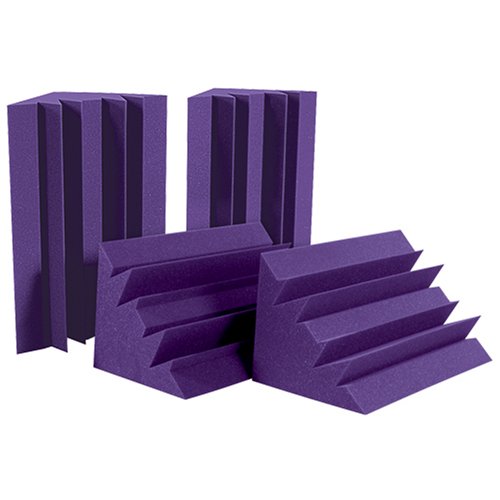 Everyone has different preferences, and we hope our frank reviews will make your decision easier. First, we will take a look at the Auralex LENPUR LENRD Bass Traps.

Now we will have look at an alternative, the Pro Studio Acoustics Sound Absorbing Tiles. Armed with design-friendly and premium quality products, Pro Studio's foam tiles will be sure to make your studio or room more attractive with its striking apparel.
Taking a look at the features of the Pro Studio Acoustics Sound Absorbing Tiles
One of the best features of Pro Studio's panels is that the product comes uncompressed, something common to happen with other brands that send out their foam tiles. With Pro Studio, you will not only get a pleasing product but it will not arrive damaged, distorted or compressed thanks to not using vacuum packaging.
HEAD TO HEAD COMPARISON

Auralex LENPUR LENRD Bass Traps

Pro Studio Acoustics Sound Absorbing Tiles

KEY FEATURES

+ Easy to set-up
+ Absorbs sound down to 75Hz
+ High-quality material



+ Doesn't come in compressed packaging
+ Appealing design
+ Affordable bundle



WHAT OUR TEAM THOUGHT

Like with the previous Auralex product, this is another great piece of merchandise from one of the industry's best companies. Whether you are looking to supply your garage, room or studio with new bass tiles, you will do well choosing the Auralex's Lenpur Lernd!

These wedge tiles will greatly reduce the fluttering echoes in medium and small sized rooms and will work at their best when placed in such. Every tile is around 2" in thickness and around 1 square foot, coming in a pack of 12. The product comes just as advertised and won't disappoint both in appeal and quality.
Want to find out more?
Also see Music Critic's article 10 of the Best Bass Traps in 2023 which includes even more information.
Similar Product reviews: