Side-by-side comparison of the Taylor GS Mini and the Takamine GD20-NS
Today Music Critic will be comparing the Taylor GS Mini to the Takamine GD20-NS. Find out what separates these two items with the full comparison review below. If you would like to see more product comparisons and reviews in this category, click here.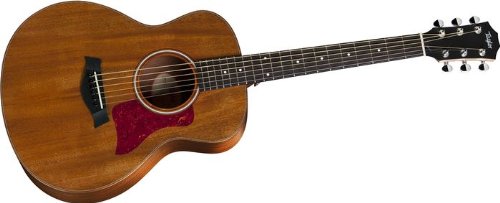 Everyone has different preferences, and we hope our frank reviews will make your decision easier. First, we will take a look at the Taylor GS Mini.

The second product we will be examining in this comparison is the Takamine GD20-NS.
HEAD TO HEAD COMPARISON

Taylor GS Mini

Takamine GD20-NS

KEY FEATURES

+ Small enough to travel with, yet big enough to handle comfortably
+ Perfect size for all musicians, especially people with shorter fingers and smaller arms
+ Made of all mahogany, the best wood for acoustic guitar production



+ Wide frets for easier chord transitions and reduced string confusion
+ Cedar and mahogany for the ultimate wood combination for durability and beautiful sound
+ Natural satin finish



WHAT OUR TEAM THOUGHT

It's hard not to like an acoustic guitar that's travel size with the voice of a full-sized one. Very rarely will you find a guitar that matches the smallness of the GS Mini with the bold sound it produces.

With wider frets, this acoustic guitar is an excellent choice for anyone who has trouble switching chords. Sometimes strings get unintentionally pressed, so we felt that this fretboard was a great solution!
Read our full review
You might also be interested in Music Critic's in-depth article on this topic, 10 Best Acoustic Guitars Under $500 in 2021.
Other product comparisons: