How do they stack up? The LX1E Little Martin Travel Guitar vs the Seagull S6 "The Original" Acoustic Guitar
Today Music Critic will be comparing the LX1E Little Martin Travel Guitar to the Seagull S6 "The Original" Acoustic Guitar. Not sure which is right for you? Read on and find the perfect item for your needs. This article is part of a series called Best Acoustic Guitars of 2019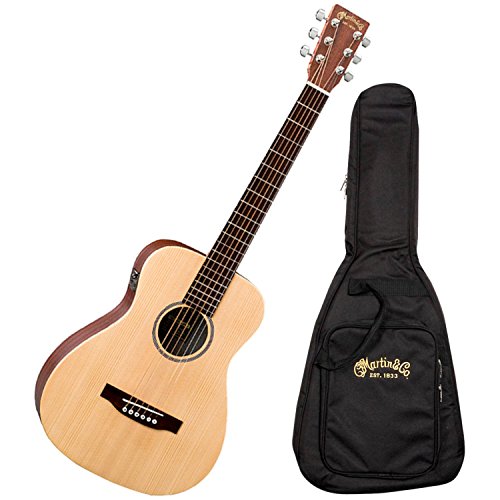 Let's get started by taking a close look at the LX1E Little Martin Travel Guitar. When you are passionate about music, all you need is a guitar that produces a good sound that's well-balanced and is easily portable for all your concerts, sessions and classes. This acoustic guitar is one of the best budget guitars on the market that has all these features and much more. It's a small guitar but has big tone, feel, sound quality, and resonance. It is a versatile and top-notch guitar that never compromises on sound quality, convenience or durability. This acoustic-electric guitar comes with a Sitka spruce top, mahogany high-pressure laminate back and sides, and a warm satin finish.

Now we will have look at an alternative, the Seagull S6 "The Original" Acoustic Guitar. The Seagull S6 "The Original" Acoustic Guitar is one of the best mid-range acoustic guitars available. Playing this instrument is a joy thanks to its rich, beautiful tone. A made-in-Canada product, it is made of hardwood which gives its design a sturdy look. It's a classic Seagull product, made of
Examining the LX1E Little Martin Travel Guitar
A satin finish not only enriches the appearance but also allows optimal sound and easy playability. It produces a more natural sound and resonance against the wood. This model has sustainably certified wood parts which further guarantee its durability and efficiency. It allows great action on little fingers and allows easy playability and convenience. Most people prefer it for its size. They can travel with this guitar literally anywhere and everywhere. It comes with a gig bag which keeps it protected and secure and it also fits in the overhead bins of airplanes. It has a unique sound. The padded gig bag gives more protection so that you can carry it anywhere. This is the best acoustic guitar for the money.
HEAD TO HEAD COMPARISON
LX1E Little Martin Travel Guitar
Seagull S6 "The Original" Acoustic Guitar
KEY FEATURES
+ Easy to carry around.

+ Rich tone and resonance for a great performance.

+ Big gig bag that allows protection.

+ Balanced and wholesome tone.


WHAT OUR TEAM THOUGHT
If you're looking for an acoustic electric guitar that provides a magnifying performance in spite of its small size and portable quality, this is it.
Read our full review
Also see Music Critic's article Best Acoustic Guitars of 2019 which includes even more information.
See more head-to-head comparisons of products: