How do they stack up? The BUGERA TRIREC INFINIUM vs the Dean DA20
In today's comparison we invite you to see how the BUGERA TRIREC INFINIUM stacks up against the Dean DA20. Our tests and reviews can help point you towards models and brands that suit your needs. Click here if you would like to see more product reviews in the same category.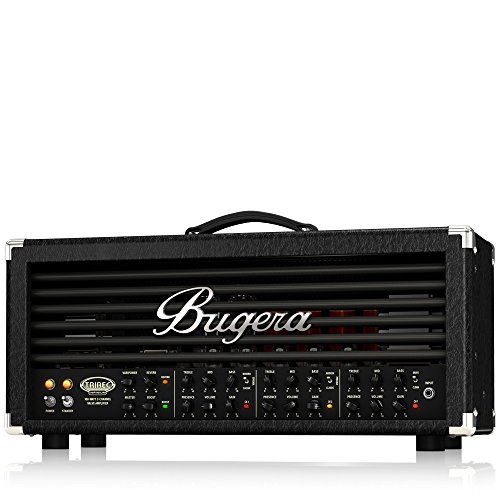 Let's get started by taking a close look at the BUGERA TRIREC INFINIUM. This brilliant amp comes with a varipower dial which allows you to go from 1W to 100W. This means you can use this amp anywhere you like, a small apartment at 3 am or a crowded auditorium packed with people.

And now we will have a look at our second product, the Dean DA20. This amp is ideal for acoustic guitars. From power to the input and output jacks, the built-in effects or the size, weight, and portability, everything you get with this amp is just top-notch.
A good look at the BUGERA TRIREC INFINIUM
It also comes with three rectifier modes that are silicon diode, tube, and tube and silicon diode. A rectifier is a device that converts alternating current to direct current, giving more power to your amp. So if you've been wanting a serious power boost, this amp is for you.
HEAD TO HEAD COMPARISON
BUGERA TRIREC INFINIUM
Dean DA20
KEY FEATURES
+ Hand-built and hand-wired for original sound.
+ Comes with three fully independent channels: vintage, classic, and modern.
+ Comes in three rectifier modes for optimum performance every time you use it.
+ Equipped with high-definition reverb and a dedicated reverb control.


+ 20-watt speaker.
+ Has 4 band EQ to adjust according to your playing style and requirements.
+ Two 5 inch speakers.
+ Has presence control to boost up the mid-range frequencies.


WHAT OUR TEAM THOUGHT
The amazing features and versatility of every application whether an in-house studio or on stage, make this guitar amp one of the very best you could ever use.
The Dean DA20 Acoustic Guitar Amp - 20W is an ideal acoustic guitar amp. It'll amplify your acoustic-electric guitar without adding any color, keeping the original sound intact.
Discover more
Music Critic did a post with even more information on this topic. Click here to see it.
Similar head-to-head comparisons: