Select and Compare: Rockford Fosgate R165X3 to the BOSS Audio CH6530
Today's product comparison has Music Critic comparing the Rockford Fosgate R165X3 to the BOSS Audio CH6530. You might think it all comes down to the price, but frankly there is a lot more to it. Click here if you would like to see more product reviews in the same category.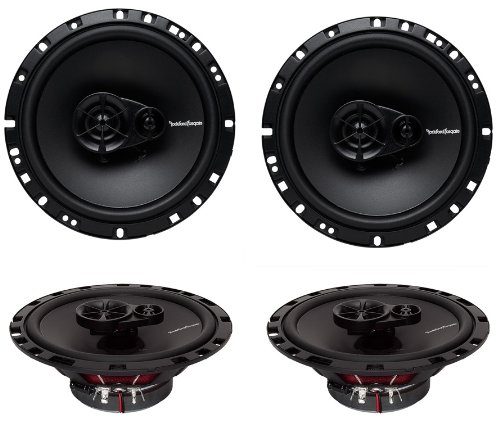 Everyone has different preferences and priorities, so to make choosing easier we have attempted to give a frank review of the products. Let's start with the Rockford Fosgate R165X3. Looking for amazing car audio? This is a set of four, 3-way coaxial stereo speakers for mounting in your car. They are well built and are CEA-2031 compliant speakers; their powerful drivers have a peak power of 90 watts per speaker, and the route mean squared power is 45 watts each.

And now we will have a look at our second product, the BOSS Audio CH6530. These are an exemplary pair of 3-way car speakers, served up at a super-low price from Boss Audio Systems, fresh from their Chaos series line.
A good look at the Rockford Fosgate R165X3
This stereo system features a tiny half-inch silk dome Piezoelectric tweeter to deal with high-frequency audio. Although having separate types of speakers designated to different frequency ranges gives a more natural representation of sound, high-frequency sounds will often be tinny without a dedicated tweeter.
A good look at the BOSS Audio CH6530
They feature a piezoelectric tweeter, which contains a positively charged active element. Piezo speakers are much less susceptible to overloading. These high-frequency drivers cope better and don't require any crossover.
HEAD TO HEAD COMPARISON

Rockford Fosgate R165X3

BOSS Audio CH6530

KEY FEATURES

+ 180 Watts
+ Well built
+ Four speakers

+ Durable
+ 3-way class
+ Full-range sound
+ High watt
+ Low price

WHAT OUR TEAM THOUGHT

These 3-way speakers emulate a typical loudspeaker setup with their frequency-allocated cones. They provide a less synthetic feel to audio, with no boxiness, no muffling, and no distortion. If you're looking for smooth car door speakers that offer great sound, try out this pair.

These are an awesome pair of 6.5 speakers with high-end design aspects that have somehow been reproduced for a fraction of the cost of other speakers. The sound range is dynamic and distortion-free. This reputable brand has ensured they come with a 3-year warranty and free grilles.
Discover more
Also see Music Critic's article 10 Best 6.5 Speakers in 2023 which includes even more information.
Related head-to-head product reviews: