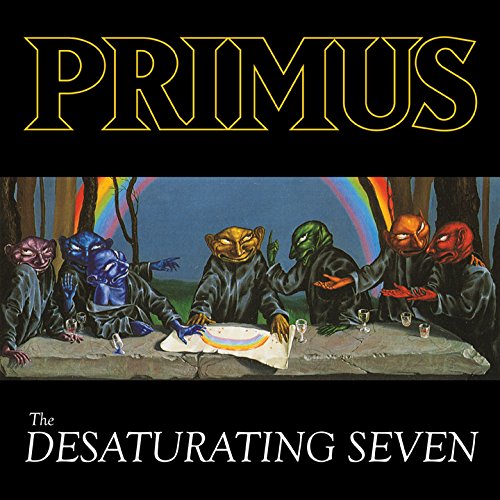 Release Date: Sep 29, 2017
Record label: ATO
Genre(s): Pop/Rock, Alternative/Indie Rock
Music Critic Score
How the Music Critic Score works
Buy The Desaturating Seven from
Amazon
The Desaturating Seven - Very Good, Based on 3 Critics
Record Collector - 80
Based on rating 4/5
Evil-minded goblins are intent on stealing all the world's colour. This is an important assimilation if you're to enjoy the new Primus album to its fullest. Inspired by Italian children's author Ul de Rico's Rainbow Goblins – which Les Claypool used to read to his kids – this is the first album of original material since 2011's Green Naugahyde, and the first with the classic Primus line-up of Claypool, LaLonde and Alexander since 1995's Tales From The Punchbowl. Opener The Valley sets the scene, before a Here Come The Bastards-style stomp announces the arrival of The Seven, which unleashes magnificently muddy, off-kilter prog in the customary fashion, with a chorus that is perhaps not accidentally in 7/4 time..
Classic Rock Magazine - 80
Based on rating 4/5
It's typical of Primus that they'd take a children's book, in this case The Rainbow Goblins, and turn it into something claustrophobic, bizarre and a little terrifying. The first studio album to feature the classic line-up of Les Claypool, Tim Alexander and Larry Lalonde since 1995's Tales From The Punchbowl, the music here gives free rein to the trio's tendency to expand on disciplined arrangements and go off on joyous tangents. Yet however much they revel in free-form expression, Primus never lose sight of the need to bring everything back to basics when necessary..
Consequence of Sound - 58
Based on rating C+
In 2017, there's still only one answer to a question like this one: "What band could take an obscure children's book about goblins who devour rainbows and spin it into an oddball concept album?" Certainly there exist enough eccentric progressive rock bands out there who might want to take a stab at that premise .