How do they stack up? The QSC K10 2-Way Powered Speaker - 1000 Watts vs the QSC K12 2-Way Powered Speaker - 1000 Watts
We will be looking at two popular products, the QSC K10 2-Way Powered Speaker - 1000 Watts and the QSC K12 2-Way Powered Speaker - 1000 Watts. Not sure which is right for you? With so many great options on the market that's hardly surprising, so read on and see if we can help you reach a decision. This product comparison article is just one in a series titled Top 11 Powered PA Speakers for DJ's and more in 2018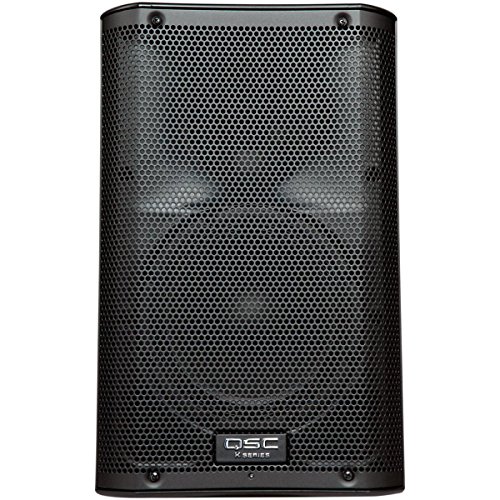 Everyone has different preferences, and we hope our frank reviews will make your decision easier. First, we will take a look at the QSC K10 2-Way Powered Speaker - 1000 Watts. This speaker has redefined power with its 1000 watts. It's a two way powered speaker with an equally powerful woofer that is 10 inches. The speaker produces sounds in wide angles (75 degrees to be exact) both horizontally and vertically so the sound spreads throughout the room uniformly. The inputs provide a lot of functionality with the combo XLR and ¼" TRS input allow connection with line level and microphone.

The second product we are looking at in this head-to-head review is the QSC K12 2-Way Powered Speaker - 1000 Watts. This a dual way powered speaker with a 12 inch woofer ready to produce the high volume you need. Like other QSC models this one has a 75 degree coverage area both vertically and horizontally that makes sure that the sound goes everywhere. You get the 1000 D class amplifier with two 500 watt bi amped systems. The DMT (Directly matched Transition) give you synced HF and LF which ensures that the coverage across the area is matched too.
Reasons to buy the QSC K10 2-Way Powered Speaker - 1000 Watts
The RCA cable input allows you to connect mp3 devices and line level mixers. Additionally, you can mix up to three outputs internally and get a balanced output by daisy chaining. No more stumbling on the wires and stopping the music as this speakers' ports have V-lock IEC power that prevents the cord from unplugging. It is strong but light enough to be transported. If you want good quality sound with powerful woofers, then this is the speaker for you.
But what about the QSC K12 2-Way Powered Speaker - 1000 Watts
This speaker can be considered quite intelligent in that sense as in simpler words it adjusts the levels of sounds to achieve more fuller and uniform sound output. With K12 too, you have a diverse range of input option and the ability to simultaneously mix up to 3 audio inputs. It is rather simple but very rugged ad portable.
HEAD TO HEAD COMPARISON
QSC K10 2-Way Powered Speaker - 1000 Watts
QSC K12 2-Way Powered Speaker - 1000 Watts
KEY FEATURES
+ 1000 Watts of Power
+ Powerful 10inch Woofer
+ Suitable for Daisy Chaining!


+ 12 inch Woofer
+ 75 degree coverage area
+ 500 watt bi-amped systems
+ Directly matched Transition technology


WHAT OUR TEAM THOUGHT
The V-lock technology is pretty amazing because there is nothing more annoying than unplugging wires by mistake and killing the whole mood. It ensures that the music stays on and the party goes on.
The DMT technology and the angle for coverage all ensure that you get sound that is equally great in all areas. There are no so called dead or hot zones for frequencies. What would you do with quality sound if it cannot be heard everywhere?
Read the complete review
Check out Music Critic's in-depth article Top 11 Powered PA Speakers for DJ's and more in 2018 which includes even more information.
Similar head-to-head comparisons: