How do they stack up? The On Stage MS7201B Microphone Stand vs the Konig & Meyer 25400 Boom Mic Stand
We will be looking at two popular products, the On Stage MS7201B Microphone Stand and the Konig & Meyer 25400 Boom Mic Stand. Not sure which is right for you? With so many great options on the market that's hardly surprising, so read on and see if we can help you reach a decision. This product comparison article is just one in a series titled 10 Best Microphone Stands of 2019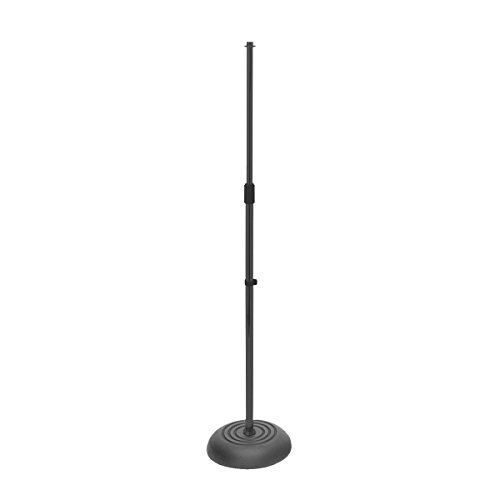 Everyone has different preferences, and we hope our frank reviews will make your decision easier. First, we will take a look at the On Stage MS7201B Microphone Stand. This microphone stand from On Stage is pretty popular among performing artists. It has a round base that is very stable with a diameter of 10 inches. The internal counter clutch holds the upper shaft in place. You get a pretty wide height range to adjust the stand to your liking, which is from 34 inches to 60 inches. This should cater to almost all heights. The end cast is solid with 5/8-27 threads. The tubing has been finished with powder coating to provide protection against moisture and dust. It is a simple and lightweight stand that is perfect for professional use.

The second product we are looking at in this head-to-head review is the Konig & Meyer 25400 Boom Mic Stand. This black colored mic stand from Konig and Meyer is pretty lightweight. It weighs a little over 4 pounds and therefore, is ideal for mobile musicians. If you have a heavy stand that does not allow you to roam around on stage, your performance can be affected in a negative way. A lot of musicians need to get their energy out by moving around. With this boom stand, you can also adjust both the length and the tilt angle of the boom. The base tubes have caps to make it stable on almost all surfaces. As a result, there is little to no noise when it is moved.
HEAD TO HEAD COMPARISON
On Stage MS7201B Microphone Stand
Konig & Meyer 25400 Boom Mic Stand
KEY FEATURES
+ Stable Round Base
+ Wide Height Range
+ Powder Coated Tube


+ Lightweight
+ Ideal for Mobile Musicians
+ Stable with the help of Base Tube Caps


WHAT OUR TEAM THOUGHT
With this stand you have many color choices too. There are black, silver and white options that go well on stage. You can match this with your other stage equipment and get a consistent and professional feel.
If you are looking for simplicity then this particular stand is the answer. It is a thin and lightweight stand that is very inconspicuous. Also it is very affordable so great for amateurs who have a limited budget for support equipment.
Read the complete review
Check out Music Critic's in-depth article 10 Best Microphone Stands of 2019 which includes even more information.
Similar head-to-head comparisons: