Side-by-side comparison
Music Critic review products for everyone, from professionals to enthusiasts, and are written in plain English to make it easier to understand the options available and decide between them. Our tests and reviews can help point you towards models and brands that suit your needs. You might also be interested in our article 10 Best DJ Turntables of 2023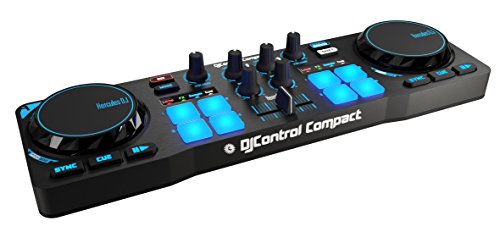 The first product we will be looking at is the Hercules DJControl USB Controller. For over 30 years Hercules has focused on creating digital audio solutions which carry endless possibilities to innovate. This company targets analog audio for offering state of the art devices so that they can be embraced by millions.

The second product we are looking at in this head-to-head review is the Denon DJ MC4000 2-Channel DJ Controller. Audio giants, Denon are providing quality audio products since ages. MC400 by Denon continues to prove the reputation for innovating affordable, easy to use and portable Controller.
A closer look at the Hercules DJControl USB Controller
From creating a sound card to building many renowned Dj turntables this company has created a good reputation amongst many professionals.
Taking a look at the features of the Denon DJ MC4000 2-Channel DJ Controller
MC4000 is built for taking almost any abuse you throw at it, thanks to the robust steel chassis. Similarly, this DJ Controller is equipped with basic input/output ports and mixing capability for reducing the needs of additional equipment.
HEAD TO HEAD COMPARISON

Hercules DJControl USB Controller

Denon DJ MC4000 2-Channel DJ Controller

KEY FEATURES

+ Only 1.2 pounds of weight make this turntable easy to carry.
+ Two jog wheels control pitch and navigation within tracks.
+ 4 modes per deck.



+ Touch-activated jog wheels for accurate scratching and track cueing.
+ Dedicated EQ and FX controls on each channel.
+ Sturdy steel construction.



WHAT OUR TEAM THOUGHT

It is all about professionalism that this turntable delivers within an affordable price range. With 4 modes, two jog wheels and equalizers this turntable by Hercules has some serious potential to kick out other contenders. Other than that, we really liked the simple design plus cool use of colors.

With long throw 100mm pitch faders, touch-activated jog wheels and dedicated pads you get more than what you really pay for this Controller. The value for money that it offers is really what we liked about it.
Want to find out more?
Check out Music Critic's in-depth article 10 Best DJ Turntables of 2023 which includes even more information.
Similar Product reviews: