Side-by-side comparison of the Rode NT-USB and the Samson Go Mic
We take a look at two popular items, the Rode NT-USB and the Samson Go Mic. You might think it all comes down to the price, but frankly there is a lot more to it. This article is part of a series called 10 Best USB Condenser Mics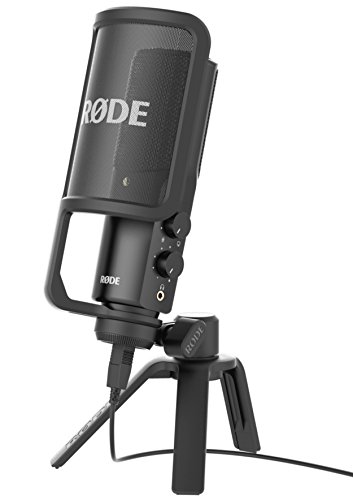 Everyone has different preferences, and we hope our frank reviews will make your decision easier. First, we will take a look at the Rode NT-USB.

Next up is the Samson Go Mic.
HEAD TO HEAD COMPARISON

Rode NT-USB

Samson Go Mic

KEY FEATURES

+ Compatible with all mainstream applications (windows & Mac based) including Apple iPad.
+ High quality recording studio microphone with USB conveniences.
+ Comes with useful accessories including a storage pouch.



+ Mac and PC compatible.
+ High-quality components and meticulous engineering.
+ Unbelievably compact (palm-sized).
+ Switchable pickup patterns.
+ Comes with Samson Sound Deck Noise Cancellation software.



WHAT OUR TEAM THOUGHT

The Rode NT-USB USB mic is a competitively priced USB condenser microphone that offers some high end capabilities. It is an ideal option for use on YouTube, Twitch, and other platforms for its zero latency features, but also records vocals and instruments to a superb standard. We also like it's forward thinking cross-platform capabilities. One of our favourite USB amazon microphones on Earth. If you're looking for a cheaper option, check out these USB Mics under $100.

Whilst your probably not going to produce a hit record with this Samson Go Mic, you might find it incredibly useful tool to 'pen' down you next big song. Perfect for on the fly recording and remarkably good for VOIP, the additional extras make for more bang for your buck. Plus we should probably mention how cute and stylish this baby is!
Read our full review
Check out our article 10 Best USB Condenser Mics for more info.
Similar Product reviews: