Compare the Taylor BT2 Baby Taylor to the Martin LX1 Little Martin
Today's product comparison has Music Critic comparing the Taylor BT2 Baby Taylor to the Martin LX1 Little Martin. The team take this task very seriously - two products enter, but only one can leave. If you enjoy this article, you can also check out the full version here.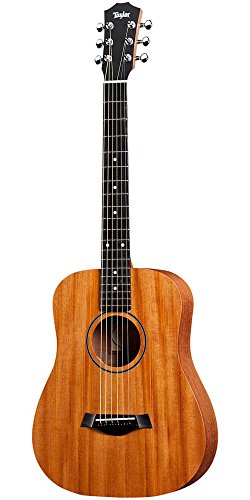 First, let's have a look at the Taylor BT2 Baby Taylor.

The second product we will be examining in this comparison is the Martin LX1 Little Martin.
HEAD TO HEAD COMPARISON
Taylor BT2 Baby Taylor
Martin LX1 Little Martin
KEY FEATURES
+ Comfortable and convenient to grab and go.
+ Ebony fingerboard.
+ Durable solid mahogany body.


+ Padded gig bag seems better quality than standard free gig bags.
+ Fullest tone.
+ Compact and affordable high quality.


WHAT OUR TEAM THOUGHT
The ¾ sized dreadnought is a go to guitar for touring musicians to jam out their ideas on. Taylor Swift sketches her ideas down in this manner on the road. A different set of guitar strings could help address lower tones if required (try these top rated nylon strings). Baby Taylor acoustics are very popular, and rightly so!
This Martin traveler guitar is a wholesome toned compact guitar that makes it a perfect choice of travel without a 'travel guitar sound', not to mention the padded gig bag you get with it!
Read the complete review
Check out our article 10 Best Travel Guitars in 2021 for more info.
Find more comparisons: