Battle Royale: Comparing the Jean Paul USA TR-330 to the Kaizer TRP-1000LQ
We will be looking at two popular products, the Jean Paul USA TR-330 and the Kaizer TRP-1000LQ. The Music Critic reviews can help point you towards models and brands that suit your needs. If you would like to see more product comparisons from the same category, click here.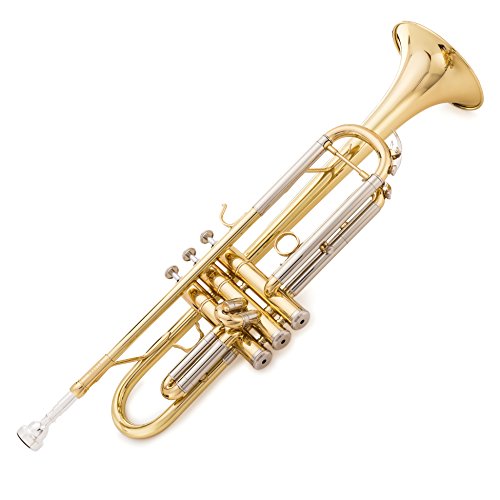 Let's get started by taking a close look at the Jean Paul USA TR-330. To start us off, we have the Jean Paul USA trumpet. With over 300 positive reviews on Amazon, there is little that can go wrong when purchasing this beauty. Jean Paul's motto is to 'make instruments that last a lifetime', and they follow through with their motto even when manufacturing their student-grade instruments. The trumpets you buy from Jean Paul will sound great, play musical renditions and endure for years before you will notice any signs of wear and tear.

The challenger is the Kaizer TRP-1000LQ. The Kaizer trumpet is another highly-regarded instrument that has received dozens of positive reviews throughout the years. Kaizer is a company known specifically for their musical instruments and their motto is to make them as durable as possible. This is especially vital when looking at student or beginner instruments, since your first trumpet will be dragged around everywhere. From band practice, to friends' homes, to marching band, to transport.
More about the Jean Paul USA TR-330
All of the Jean Paul products are tested and approved twice, both by professional level players and technicians right before they are shipped off. Jean Paul also takes customer satisfaction seriously, which means that they have been improving their instruments every time they got constructive criticism from their customers. This practice is what made them one of the most sought after student-grade instrument-producing top brands, and it's no doubt they will stay at the top of the list for a long time.
Examining the Kaizer TRP-1000LQ
Unlike other top brands, Kaizer doesn't import their instruments. They make them right here in America, and they pride themselves on their outstanding customer service and American standards.Their goal is to make their customers happy with their new instrument, and we can easily say that they manage each time. They don't put their name on any product that doesn't live up to the Kaizer name. This means that each instrument is crafted with care, and tested by professional level players!
HEAD TO HEAD COMPARISON

Jean Paul USA TR-330

Kaizer TRP-1000LQ

KEY FEATURES

+ Comes with a hard case+ Projects extremely well
+ Produces warm & enchanting tones
+ Sturdy construction



+ 45-day free trial
+ Comes with case, valve oil and gloves
+ Durable, sturdy build
+ Comes in 4 distinct colors
+ Yellow brass additions



WHAT OUR TEAM THOUGHT

It's no secret that Jean Paul is a leading trumpet brand in producing band instruments, and that their products are of quality make. All of their trumpets are made to be used by both beginner & intermediate trumpet students, and they price their merchandise accordingly. Cons: - Valves may be a bit stiff for some

The Kaizer is inexpensive and sounds great for its budget range. It gives off a happy, deep sound that is ideal for any student looking to improve. Cons: - Valve slides may feel too loose for some
Read the complete review
Also see Music Critic's article Top 10 Best Student Trumpets which includes even more information.
Related product comparisons: