Side-by-side comparison
In this brief comparison, we are going to be putting two products head to head. Find out what separates these two items with the full comparison review below. For more information and product comparisons, check out our longer article here.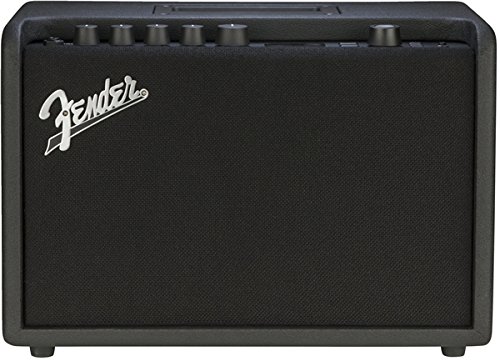 Everyone has different preferences, and we hope our frank reviews will make your decision easier. First, we will take a look at the Fender Mustang GT 40.

The challenger is the BOSS KTN-HEAD Portable Katana. Another fantastic product from the amazing Katana series by BOSS, the line beautifully represents the company's intentions of providing exceptional 'rock sound'. Featuring finely-tuned processing over the generations relying on the same processes that perfected the popular Waza amplifier, this portable 100-watt amp head is a powerful, compact modeling amp. It delivers genuine tube-like' amp tones in a convenient modeling amp.
But what about the BOSS KTN-HEAD Portable Katana
Expertly manufactured It presents five amp well-known characters: Clean, Crunch, Lead, Brown (derived from the Waza amp), and Acoustic which you can simultaneously use a combination of up to 3 at a time. The additional BOSS Tone studio editing software is a digital perk which offers up 55 delectable sounds, all can be fully customized, enabling users to build sounds from scratch. You can store 15 of the effects on board for quick retrieval in live situations.
HEAD TO HEAD COMPARISON
Fender Mustang GT 40
BOSS KTN-HEAD Portable Katana
KEY FEATURES
+ Bluetooth sharing presets.
+ MP3 line.
+ Full color display screen.
+ Volume ranges for home practice and gigging at a variety of venue sizes.


+ Glorious crunches.
+ Pristine clean.
+ Powerful distortions.
+ 100 watt amp head


WHAT OUR TEAM THOUGHT
Fender have taken their experience in the amplification field to provide tube-like emulations in a versatile modeling amp and effects loop to the masses.
This is a great value for money modeling amp, it offers a fair few watts for your dollars and incredible integrated software meaning custom sounds can be recalled for performing.
Discover more
You may also be interested in our article Top 10 Best Modeling Amps.
Related head-to-head product reviews: