Side-by-side comparison
See how the CCA C10 High-Performance in-Ear Monitor Headphones stacks up against the Brainwavz Monitor Wired Earphones in today's product comparison. You might think it all comes down to the price, but frankly there is a lot more to it. If you find this article interesting, you might also want to read 6 Best In-Ear Monitors For Drummers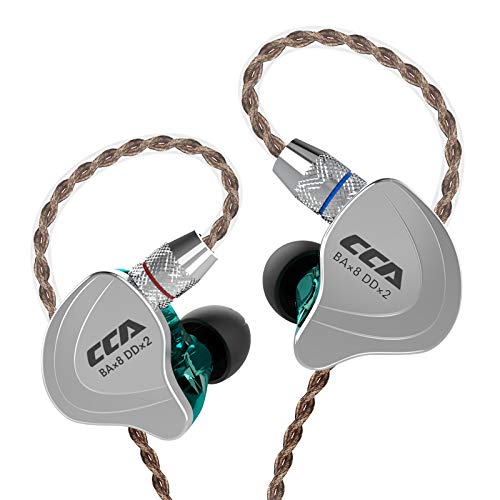 The first product we will be looking at is the CCA C10 High-Performance in-Ear Monitor Headphones. For starters, we have selected a high performance set from CCS which provide advanced ergonomics for a premium fit in a non-costly design.

The second product we will be examining in this comparison is the Brainwavz Monitor Wired Earphones. Brainwavs monitors are an alternative balanced armature option with very well refined drivers. They produce a suitable level of clarity and detail and are reasonably priced for their premium composition.
Taking a closer look at the features of the CCA C10 High-Performance in-Ear Monitor Headphones
They are a lightweight set with a robust zinc alloy/resin shell. They are very reasonably priced considering their superb components; they feature C10 hybrid drivers that are decked with a titanium diaphragm tweeter as well as a woofer. Neodymium magnets drive both.
Examining the Brainwavz Monitor Wired Earphones
This wired headphone option features a unique 3D printed shape which has low-profile, lightweight and provides the necessary durability to give the customer value for money.
HEAD TO HEAD COMPARISON

CCA C10 High-Performance in-Ear Monitor Headphones

Brainwavz Monitor Wired Earphones

KEY FEATURES

+ Durable, ergonomic design.
+ MEMS noise cancellation.
+ 10mm woofer + 6mm tweeter combo.
+ Detachable cables


+ Dynamic BA IEM system.
+ Durable set.
+ High sound quality.
+ Comfortably fits ear via ergonomic tips.


WHAT OUR TEAM THOUGHT

They serve-up excellent quality among their class, giving a proper audio resolution for a productive, dynamic listening experience.

The sound quality is awe-inspiring, and they are well-designed and executed inside and out to be a valuable addition to your gig-bag.
Read the complete review
Also see Music Critic's article 6 Best In-Ear Monitors For Drummers which includes even more information.
See more head-to-head comparisons of products: