1 on 1 Testing
Music Critic review products for everyone, from professionals to enthusiasts, and are written in plain English to make it easier to understand the options available and decide between them. The Music Critic reviews can help point you towards models and brands that suit your needs. If you enjoy this article, you can also check out the full version here.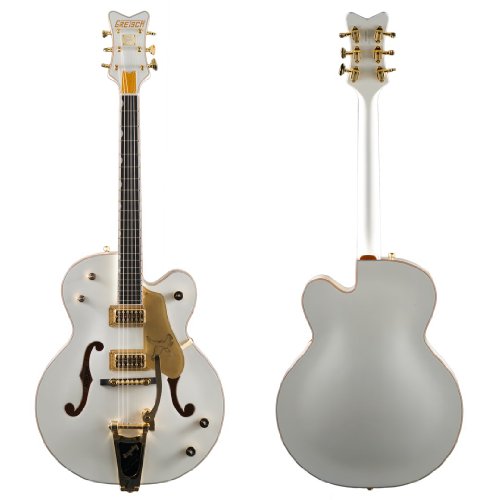 Contestant number one is the Gretsch G6136T White Falcon Hollow Body Electric Guitar. Gretsch is an American music group that manufactures best electric guitars, bass guitars, and drums. The roots of this company were founded in 1883 by a twenty-seven-year-old German immigrant.

Now we will have look at an alternative, the Ibanez AG75BS Artcore Hollowbody Electric Guitar. From copying expensive guitars to innovating completely new designs Ibanez has gone through every period. The history of Ibanez speaks for itself as the Japanese owner struggled really hard to actually open a company named Ibanez.
Taking a look at the features of the Gretsch G6136T White Falcon Hollow Body Electric Guitar
Excelling the game of semi-hollow's since ages G6136T by Gretsch promises another level of performance. From producing classic to deep complex sound this guitar is the best option for elevating your string game.
A closer look at the Ibanez AG75BS Artcore Hollowbody Electric Guitar
With over four decades of experience, Ibanez tends out to be amongst the eldest semi-hollow body manufacturing company.
HEAD TO HEAD COMPARISON
Gretsch G6136T White Falcon Hollow Body Electric Guitar
Ibanez AG75BS Artcore Hollowbody Electric Guitar
KEY FEATURES
+ Laminated Maple body back and sides.
+ High-Sensitive Filter'Tron pickups.
+ Neo-Classic thumbnail inlays.


+ Mahogany material and large frets.
+ Classic elite pickups that offer rich yet nuanced tone with flat low-end.
+ Best for genres like blue, country, jazz, and rock.


WHAT OUR TEAM THOUGHT
One cannot challenge the features of G6136T by Gretsch. With U shaped profile for easy playing, Two high sensitive Filter'Tron pickups and that worldly falcon shape make this string instrument on the best of its league.
It doesn't get any better else than AG75BS Artcore by Ibanez. .With elite pickups for providing rich sound, large frets, and bound rosewood fingerboard this semi hollow body touch every musician's heart.
Would you like to know more?
Check out Music Critic's in-depth article The 10 Best Hollow Body Guitars & Semi Hollow Body Guitars of 2019 which includes even more information.
Other product comparisons: