1-v-1 Product Comparison - the Fender Blues Deluxe Harmonica vs the Hohner Marine Band Harmonica
See how the Fender Blues Deluxe Harmonica stacks up against the Hohner Marine Band Harmonica in today's product comparison. Our tests and reviews can help point you towards models and brands that suit your needs. If you find this article interesting, you might also want to read Top 10 Best Harmonicas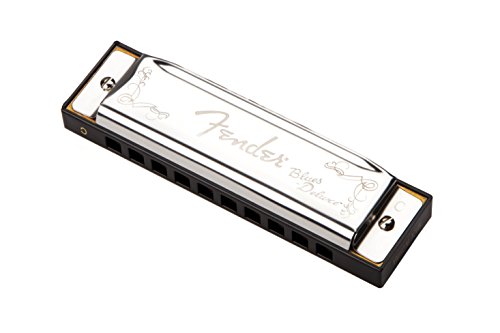 Everyone has different preferences and priorities, so to make choosing easier we have attempted to give a frank review of the products. Let's start with the Fender Blues Deluxe Harmonica. Fender is one of the most popular music/instrument brands in the world. Many people associate Fender with guitars, however they produce a variety of instruments, including harmonicas. Fender was established in the year 1946, and has supplied both beginner, intermediate and professional players with quality instruments. They have produced harmonicas specifically for various genres, ranging from rock 'n' roll, jazz to blues etc.

Now we will have look at an alternative, the Hohner Marine Band Harmonica. Here we have a second Hohner product. This time, the Marine Band Harmonica. Unlike many of the other contestants on this list, this harmonica comes in a custom, vintage-design case. Just taking a glance at it will make you feel like you travelled back in time to the early 1900s. It's definitely a good playing harmonica for anyone that is trying to revive the old, vintage vibes with both the sound and the appeal of this Harmonicas set.
Taking a closer look at the features of the Fender Blues Deluxe Harmonica
This is exactly what makes the Fender Blues Deluxe a harmonica what it is. It's designed specifically for blues
A good look at the Hohner Marine Band Harmonica
Although, much like the other Hohner products, this harmonic is significantly more expensive than the others on our list. That comes down to the exquisite design, unique sound and all in all, this being an original, professional Hohner product. If you have been playing for a while and want to treat yourself to a new, more advanced harmonica to buy, then the Hohner Marine Band is the ideal choice to go for.
HEAD TO HEAD COMPARISON
Fender Blues Deluxe Harmonica
Hohner Marine Band Harmonica
KEY FEATURES
+ Comes in 7 keys
+ Comes in protective, plastic case
+ Articulate tone
+ Moisture resistant ABS combs


+ Strong, vintage sound
+ Study, vintage case
+ Quality German craftsmanship
+ Stainless steel coat


WHAT OUR TEAM THOUGHT
If you have been having trouble with having yourself heard when you are playing Harmonica with other bandmates, then the Fender Blues will sort that problem out. Cons: - High-notes may be harder to reach
It's a compact, quality instrument that will help liven up any stiff party, on land or out at sea! Cons
: - May be too expensive for some
Read our full review
Also see Music Critic's article Top 10 Best Harmonicas which includes even more information.
Related head-to-head product reviews: