Select and Compare: Mugig Diatonic Harmonica to the I-MART 10 Hole Diatonic Harmonica
We will be looking at two popular products, the Mugig Diatonic Harmonica and the I-MART 10 Hole Diatonic Harmonica. Our tests and reviews can help point you towards models and brands that suit your needs. Click here if you would like to see more product reviews in the same category.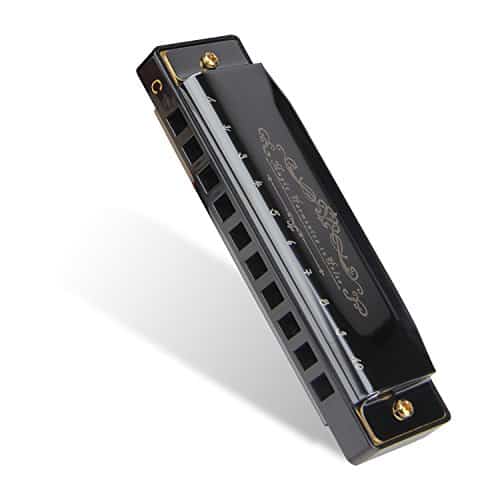 The first product we will be looking at is the Mugig Diatonic Harmonica. First on our list is an all-around Amazon best-seller, the Mugig. With over 200 reviews, future customers can rest assured that they will be buying a product tested by many. The item has only been available for purchase since a year, but its popularity has showed us just how beloved it is. Mugig did a good job representing the product in a good light, too, focusing on both presentation and playability.

Now we will have look at an alternative, the I-MART 10 Hole Diatonic Harmonica. 
I-Mart has been supplying the market with their quality harmonicas for over 3 years now. If you are not sure if you really want to start playing the harmonica, this I-MART 10 Hole Diatonic Harmonica is the best product to try it out on. It's relatively budget-priced, and you won't have to spend all of your savings on an instrument you are not sure about.
A good look at the Mugig Diatonic Harmonica
The harmonica can be packed away into a chic, small case that is 100% portable. It's also important to note that the Mugig Diatonic has had the nr.1 spot in the harmonica department on Amazon, despite only being distributed in 2017. That's definitely a big achievement, and should disperse any worries that you could have about investing into this diatonic. It's also important to note that Mugig makes professional harmonicas, too. They put a lot of effort into putting all of the vital, harmonica features into their budget-priced harmonicas as well as their more expensive products.
A closer look at the I-MART 10 Hole Diatonic Harmonica
This beginners' harmonica will also give you less reason to worry: you will be able to take the I-Mart Diatonic wherever you go, without worrying about it getting scratched or damaged. The I-MART 10 Hole Major Diatonic Harmonica a durable, reliable, budget instrument that will help take you form a beginner to intermediate level if you are willing to put in consistent practice.
HEAD TO HEAD COMPARISON
Mugig Diatonic Harmonica
I-MART 10 Hole Diatonic Harmonica
KEY FEATURES
+ Comes with a small case
+ Bright, rich sound
+ Stainless steel coat
+ 20 tunes available
+ Phosphor bronze reeds


+ Good, budget price
+ Comes in 5 colors
+ Durable, sturdy case
+ Pre-printed number keys
+ Good harmonica for beginners


WHAT OUR TEAM THOUGHT
The clear, ringing notes each have a specific, individual tone that will make just about any song shine in its best light. It's ideal for blues, folk music and pop performances. Cons: - At 2 ounces, may feel too lightweight for some
It's ideal for beginners, has a smooth plastic body that helps encourage fast playing, is made from quality materials and has been individually crafted. Cons: - May need extra tuning
The Bottom Line
You may also be interested in our article Top 10 Best Harmonicas.
Similar Product reviews: