Side-by-side comparison of the Snark SN1 Electric Guitar Tuner and the D'Addario Clip On Electric Tuners
Today Music Critic will be comparing the Snark SN1 Electric Guitar Tuner to the D'Addario Clip On Electric Tuners. The team take this task very seriously - two products enter, but only one can leave. If you find this article interesting, you might also want to read The Best Clip On Guitar Tuner for Electric & Acoustic Guitar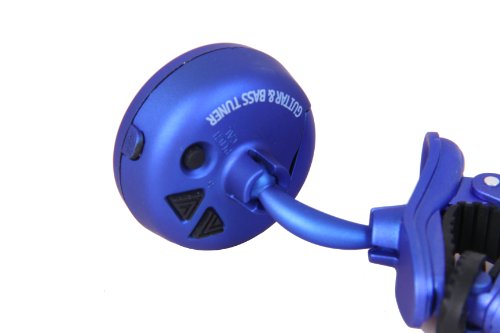 Contestant number one is the Snark SN1 Electric Guitar Tuner. The Snark SN1 is designed to work with any kind of guitar seamlessly (acoustic or electronic). Just like the SN2, it clips on to your electronic guitar without any hassle. It is easy to carry and store in its pouch when not in use. The frequency range is specially tailored for electronic guitars and bass guitars. It has the tap tempo metronome and the transpose feature. This allows you to tune with the capo on.

The challenger is the D'Addario Clip On Electric Tuners. If you are looking for something strong and durable, look no further as this product has you covered. It is great for both newbies and expert guitarists who play all the time. This one too rotates to a full 360 degrees which make it very easy to use. You can use it with the capo too.
Taking a closer look at the features of the Snark SN1 Electric Guitar Tuner
The clip-on is very strong and is great for on-stage performances too where you might be mobile. It uses bright colors to show you the pitches and distinguish low from high. Also, it can be rotated in a complete 360-degree circle making it simple to tune the instrument. Here is a bit more about the product that you won't find in other reviews.
Examining the D'Addario Clip On Electric Tuners
It has a clean design with the LCD having three bright colors that make it very legible. It comes with a manual too that makes things further easy. If you are a beginner then this is the good thing for you as you will get precise tuning and you will find it relatively easy to use.
HEAD TO HEAD COMPARISON
Snark SN1 Electric Guitar Tuner
D'Addario Clip On Electric Tuners
KEY FEATURES
+ Easy to use
+ Strong clip on
+ Advanced features
+ 360 degrees rotation


+ Ease of use
+ Legible screen
+ 360 degrees rotations
+ 30 days money back guarantee


WHAT OUR TEAM THOUGHT
 If you love your Korg or Boss acoustic/electronic guitar you will love this tuner too because it will work with it seamlessly. You can use it for a very long period of time as it is designed to be durable. Also, it is super cheap which makes it affordable for everyone.
 For those just starting out playing electronic guitars, bass or violins, it provides a good solution. These things with extra features would be difficult or intimidating for newbies to understand so this one is the top product.
Would you like to know more?
You might also be interested in Music Critic's in-depth article on this topic, The Best Clip On Guitar Tuner for Electric & Acoustic Guitar.
Related head-to-head product reviews: