How do they stack up? The BENGOO G9000 Stereo vs the RUNMUS Gaming Headset
Today Music Critic will be comparing the BENGOO G9000 Stereo to the RUNMUS Gaming Headset. Find out what separates these two items with the full comparison review below. You might also be interested in our article 10 Best Gaming Headphones Under $100 in 2023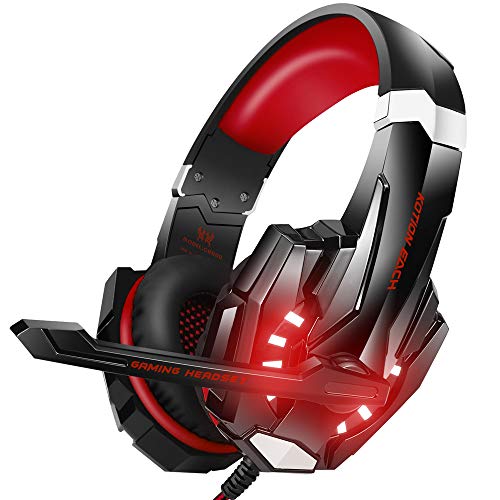 Contestant number one is the BENGOO G9000 Stereo. These gaming headphones are compatible with pretty much every gaming console on the map. The dynamic 40mm audio drivers offer ambient noise cancelling technology, shock vibration, and sound clarity to let you absorb all of the intricacies offered by your favorite game. The omnidirectional mic allows you to communicate with teammates and enemies clearly and uses noise cancelling technology to block out unwanted sound. The leather earcups and adjustable headband make them really comfortable to wear. You can control the volume of the shots coming your way with the buttons positioned on the cable. For less than 100 bucks, these headphones will offer you all the audio you will need.

The second product we are looking at in this head-to-head review is the RUNMUS Gaming Headset.
HEAD TO HEAD COMPARISON

BENGOO G9000 Stereo

RUNMUS Gaming Headset

KEY FEATURES

+ Great sound
+ Dim lights
+ Clear Mic
+ Comfortable
+ In-line button control
+ Noise cancelling technology



+ Great sound
+ Exceptionally comfortable
+ Noise-canceling mic
+ Durable
+ Great value for money



WHAT OUR TEAM THOUGHT

These headphones are pretty comfortable when wearing them for long periods of time. The sound quality is really strong and the mic is clear. We also love the noise cancelling technology - it blocks out background noise, meaning you can immerse yourself completely in the game. They are a great set to get you into the game for under $100.

There are no problems when wearing this gaming headset. They truly give you a professional feel and immerses you in the game. They have everything you need for the best gaming headsets under $100.
Read the complete review
Also see Music Critic's article 10 Best Gaming Headphones Under $100 in 2023 which includes even more information.
Similar head-to-head comparisons: