How do they stack up? The ChromaCast CC-EHC Electric Guitar Hard Case vs the Musician's Gear Deluxe Electric Guitar Case
Music Critic review products for professionals and enthusiasts, and are designed to help making a choice easier. The team take this task very seriously - two products enter, but only one can leave. This article is part of a series called Best Electric Guitar Case of 2021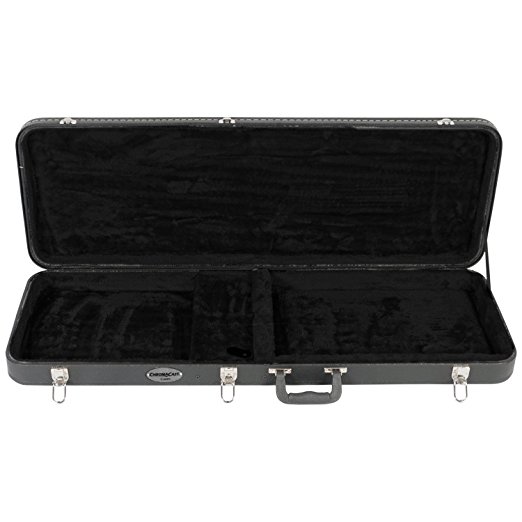 Contestant number one is the ChromaCast CC-EHC Electric Guitar Hard Case. ChromaCast is a slightly lesser known brand. As well as gig bags and cases they offer an entire suite of accessories such as strings, straps, picks, stands, instrument cables and drumsticks. They even produce violin accessories and t-shirts, these guys do a bit of everything and to a decent standard too.

Next up is the Musician's Gear Deluxe Electric Guitar Case. The absolute epitome of vintage class and style the Musicians Gear Deluxe is a hardshell case with a 5 plywood construction designed for classic Stratocaster or Telecaster style guitars. The plywood is not as strong as your typical molded plastic shell however it still offers a decent level of protection, considerably more than your average gig bag.
Examining the ChromaCast CC-EHC Electric Guitar Hard Case
Case wise they carry a range of different types, covering bass guitars, acoustic and semi-acoustic guitars (both Dreadnought and mini jumbo) and both gig bags and hardshell for electric guitars. It is the hard shells these guys do best and what we will be taking a look at in this review.
A closer look at the Musician's Gear Deluxe Electric Guitar Case
The corners and edges are an old school textured vinyl. This combined with the Tweed body give it an unmistakable 60's look. Also located on the exterior are heavy duty metal latches which can be locked to secure your instrument inside out of reach from unwanted attention. The handle is a molded plastic build and should stand up to a considerable amount of wear and tear.
HEAD TO HEAD COMPARISON
ChromaCast CC-EHC Electric Guitar Hard Case
Musician's Gear Deluxe Electric Guitar Case
KEY FEATURES
+ Lightweight and easily transportable
+ Strong outer shell
+ Robust handle


+ Plywood build
+ Vintage tweed and textured vinyl design
+ High-quality lining
+ Solid hardware


WHAT OUR TEAM THOUGHT
 Overall this is a decent case. As we said above in the review this is a no frills product of a decent standard so do not expect the world from it. However, or an extremely modest price the CC-EHC should keep your investment well protected.
 A decent product overall. As stated above this should be of most interest to those of you who are looking for a Strat or Tele style case on a budget.
Discover more
Music Critic did a post with even more information on this topic. Click here to see it.
Other product comparisons: