How do they stack up? The PCDJ DEX 3 vs the Virtual Dj Broadcaster Dsa
Trying to decide between two models? The team take this task very seriously - two products enter, but only one can leave. If you enjoy this article, you can also check out the full version here.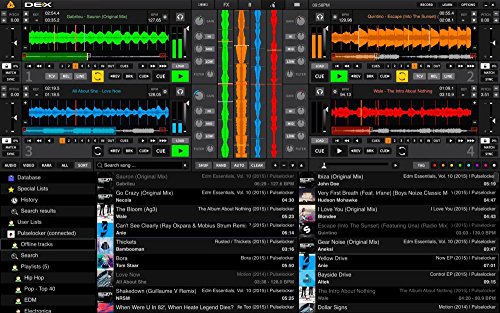 The first product we will be looking at is the PCDJ DEX 3. We're going to start off this list with PCDJ DEX 3. It's a really good and versatile software for music production.

And now we will have a look at our second product, the Virtual Dj Broadcaster Dsa. If you just want something really easy to use on your computer without buying any expensive hardware, you might like Virtual DJ Broadcaster Dsa for your musical creations. It offers a 99 deck capacity and you can adjust the tempo and pitch of your music and scratch with the mouse cursor to make it extra DJ-like (sounds like DJ turntables!). It also offers seamless transitions between the songs in your playlist. The program also features instant BPM detection.
Taking a look at the features of the PCDJ DEX 3
Here is an overview video you can watch to find out what PCDJ thinks you should know about it:
Examining the Virtual Dj Broadcaster Dsa
The only thing you need to make sure of before you purchase it is that you can use CDs with your laptop since you can't download it.
HEAD TO HEAD COMPARISON
PCDJ DEX 3
Virtual Dj Broadcaster Dsa
KEY FEATURES
+ Good for karaoke
+ Lots of different audio effects like filters, echo, reverb etc.
+ Great for video mixing


+ Cheap
+ For your DJ laptop
+ 99 deck capacity
+ Good for beginners


WHAT OUR TEAM THOUGHT
This DJ mixing software is a great, user-friendly software that is perfect for people who like to do a little bit of everything, from just regular gigs to karaoke nights and video mixing. It's hard to go wrong with this program since it's really versatile, and it's really good that it's available with 4 full-featured DJ desks. This program will give you the freedom to fully control your music the way you want to and it offers no-latency playback. If you have lots of digital music on iTunes you'll be pleased to hear that it automatically imports your playlists so that you can start working straight away without having to import them manually. Another great thing is that you can install it on up to three music production computers.
We would recommend this software program to kids and young people who have a dream of becoming a DJ and want to try it out for music production, or possibly adults that are hosting a party or a wedding and want to be able to do more than just put on a Spotify playlist.
Read our full review
Music Critic did a post with even more information on this topic. Click here to see it.
Find more comparisons: