How do they stack up? The EarthQuaker Acapulco Power Amp vs the Electro-Harmonix Nano Big Muff
In this brief comparison, we are going to be putting two products head to head. Not sure which is right for you? Read on and find the perfect item for your needs. Click here if you would like to see more product reviews in the same category.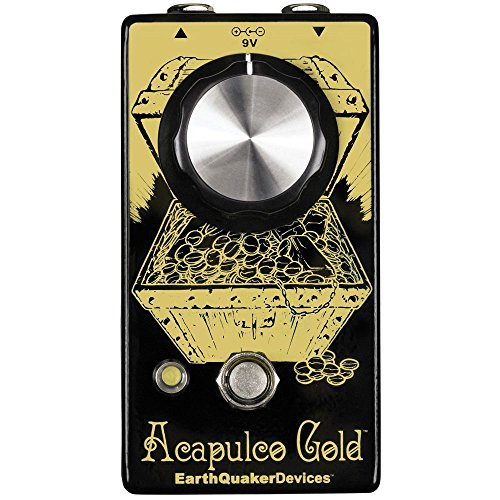 Everyone has different preferences and priorities, so to make choosing easier we have attempted to give a frank review of the products. Let's start with the EarthQuaker Acapulco Power Amp. EarthQuaker make some absolutely stunning products, and this one is no different. In fact, if this isn't the nicest looking distortion pedal on the market then we really don't know what is. It's just so very cool in every way. If the gold chest artwork on a totally black background wasn't enough, you've got this enormous oversized knob (branded the 'big knob') to control your sound with. It's over-the-top in just the right way.

The second product we will be examining in this comparison is the Electro-Harmonix Nano Big Muff. Once you've got over the amusing name, there's little doubt that this is a very accomplished pedal. While some of the units on this list have been designed to cater to a wide variety of styles, this one has one tonal goal: fuzz.
A good look at the EarthQuaker Acapulco Power Amp
Enough about the way it looks though - how does it sound? Loud. That's probably the most accurate way of describing this pedal. It might be a no-nonsense one-knob pedal, but this is one impactful unit. Crank up the dial and it will deliver some seriously powerful distortion or fuzz. Think Billy Gibbons of ZZ Top cranked up to 11. It's worth bearing in mind that the pedal's sound is influenced considerably by the guitar output - you'll get that beautiful not-quite-fuzz sound with the right setup.
Let's take a closer look at the Electro-Harmonix Nano Big Muff
That said, there is some flexibility to be had. Make adjustments and you can actually move from an almost clean level of fuzz; perfect for a bit of jazz or even funk, to ridiculous levels of distortion that would be ideal for stoner and doom metal. Think Dopesmoker by Sleep. It's a very entertaining pedal to play with despite its small size.
HEAD TO HEAD COMPARISON
EarthQuaker Acapulco Power Amp
Electro-Harmonix Nano Big Muff
KEY FEATURES
+ Awesome looks
+ Loud, no-nonsense distortion
+ Superb build quality


+ Great compact chassis
+ Suitable for all kinds of fuzz
+ Good price


WHAT OUR TEAM THOUGHT
Whether you're looking for some serious stoner metal distortion, or you want something to give your blues the edge, there aren't many better options than the Acapulco Gold. It's a premium option, and the big knob might not be to everyone's tastes, but the sound is simply awesome.
The Nano Big Muff makes our list because it offers a fantastic combination of premium micro packaging and awesome tone. You can get a lot of different sounds out of it, despite it being an out-and-out fuzz pedal, which makes it great fun to mess around with.
Read the complete review
You may also be interested in our article The Top Distortion Pedal for Heavy Metal & More in 2019.
Other product comparisons: