1-v-1 Product Comparison - the Electro-Harmonix Soul Food vs the Boss DS-1
We will be looking at two popular products, the Electro-Harmonix Soul Food and the Boss DS-1. Not sure which is right for you? With so many great options on the market that's hardly surprising, so read on and see if we can help you reach a decision. If you would like to see more product comparisons from the same category, click here.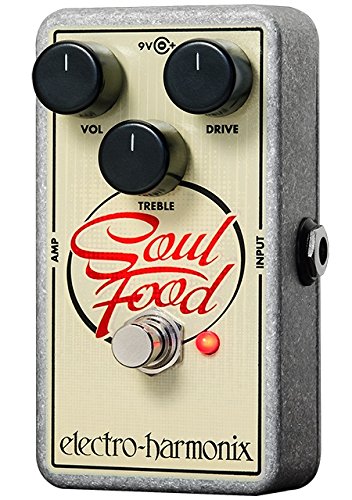 The first product we will be looking at is the Electro-Harmonix Soul Food. Electro-Harmonix are one of the most well known names in effects pedals, which is why you shouldn't be surprised to find one of their products on this list. The Soul Food is a really nice bit of kit, designed for those who are looking for a little bit of crunch or fuzz without going overboard. It's certainly suited to those that play jazz and blues with a rock edge.

And now we will have a look at our second product, the Boss DS-1. The Boss DS-1 pedal should need no introduction really. This is one of the most famous, popular, and well-reviewed distortion pedals on the market, and has been for almost 40 years now. It's an absolute classic, and is likely to continue as such for a very long time yet.
More about the Electro-Harmonix Soul Food
In terms of specs, we've got optional true bypass or buffered bypass, which is very nice to see, and will be hugely useful for guitarists that need a versatile pedal. Volume, drive and treble knobs allow you to control the sound, which is designed to be as transparent as possible. We'd agree - at lower volumes there's very little in the way of tone altering.
Let's take a closer look at the Boss DS-1
What can we say? The DS-1 has been designed from the outset as the everyman's distortion pedal. It's versatile enough to be used for a very wide range of music styles, it's not hard to get it to elicit some great sounds, and it's priced very attractively indeed. We can easily get everything from a bit of light distortion to some serious growls from the responsive dials, which is great if you're new to this kind of effect.
HEAD TO HEAD COMPARISON
Electro-Harmonix Soul Food
Boss DS-1
KEY FEATURES
+ Optional true- or buffered bypass
+ Superb transparent overdrive sound
+ Rugged construction


+ Suitable for a wide range of styles
+ Perfected over decades
+ Fantastic price


WHAT OUR TEAM THOUGHT
This is probably the top distortion pedal that you can buy if you're just looking for some warmth and crunch in a fairly transparent way. If you don't need that full-blown distortion sound, then it's hard to look past the Soul Food. It looks good, sounds better, and comes in at a very attractive price too.
The DS-1 might lose out to boutique pedals when it comes to specialisation, but overall it's just a really solid proposition from Boss. It's inexpensive, and will do just about whatever 90% of guitarists want it to, which makes it really hard to beat, and why no top-10 list is complete without it.
Read our full review
You may also be interested in our article The Top Distortion Pedal for Heavy Metal & More in 2019.
Find more comparisons: