1-v-1 Product Comparison - the Electro-Harmonix Soul Food vs the Boss DS-1
We will be looking at two popular products, the Electro-Harmonix Soul Food and the Boss DS-1. Not sure which is right for you? With so many great options on the market that's hardly surprising, so read on and see if we can help you reach a decision. If you would like to see more product comparisons from the same category, click here.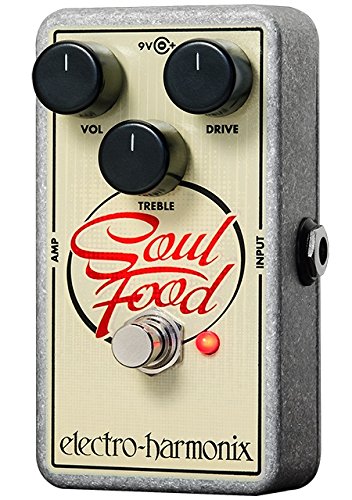 The first product we will be looking at is the Electro-Harmonix Soul Food.

And now we will have a look at our second product, the Boss DS-1.
HEAD TO HEAD COMPARISON
Electro-Harmonix Soul Food
Boss DS-1
KEY FEATURES
+ Optional true- or buffered bypass
+ Superb transparent overdrive sound
+ Rugged construction


+ Suitable for a wide range of styles
+ Perfected over decades
+ Fantastic price


WHAT OUR TEAM THOUGHT
This is probably the top distortion pedal that you can buy if you're just looking for some warmth and crunch in a fairly transparent way. If you don't need that full-blown distortion sound, then it's hard to look past the Soul Food. It looks good, sounds better, and comes in at a very attractive price too.
The DS-1 might lose out to boutique pedals when it comes to specialisation, but overall it's just a really solid proposition from Boss. It's inexpensive, and will do just about whatever 90% of guitarists want it to, which makes it really hard to beat, and why no top-10 list is complete without it.
Read our full review
You may also be interested in our article The Top Distortion Pedal for Heavy Metal & More in 2021.
Find more comparisons: