1 on 1 Testing
Trying to decide between two models? You might think it all comes down to the price, but frankly there is a lot more to it. If you would like to see more product comparisons and reviews in this category, click here.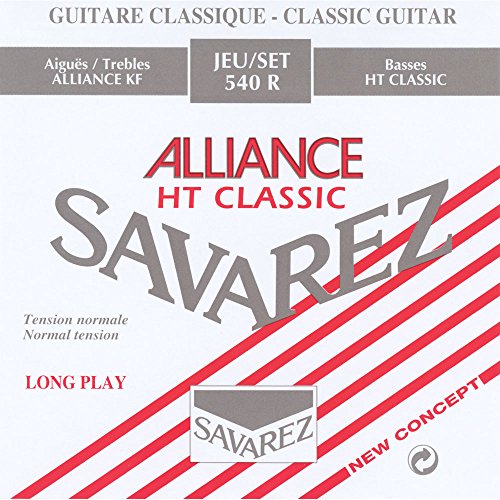 Everyone has different preferences, and we hope our frank reviews will make your decision easier. First, we will take a look at the Savarez 540R Alliance.

The challenger is the D'Addario EJ25B Pro-Arte. Are you into flamenco and Spanish music? If you are, you're in luck! D'Addario's EJ25B Pro-Arte strings are really good for that kind of music, you'll get snappy bass strings and light trebles that takes your flamenco to the next level. The strings are very flexible and enable you to get that perfect tone, that is, combined with the right classical guitar technique, which is of course essential for the genre.
A good look at the D'Addario EJ25B Pro-Arte
The strings are made in the U.S.A. and are very high-quality. D'Addario is a brand name that most classical guitarists are familiar with, because they know that it's a brand they can trust. These particular strings are made of black nylon, but there is an option with clear nylon as well.
HEAD TO HEAD COMPARISON

Savarez 540R Alliance

D'Addario EJ25B Pro-Arte

KEY FEATURES

+ Normal tension
+ Carbon fiber trebles
+ Wound bass strings that are silver plated
+ Minimized left hand noise



+ Perfect for flamenco and Spanish music
+ Black nylon
+ Durable
+ Flexible feel with a quick attack response



WHAT OUR TEAM THOUGHT

The bass sets in the Savarez 540R Alliance are quite stiff and offer good projection and the trebles resemble classical guitar strings, and this minimizes the left hand guitar sounds remarkably, which is really good.

The strings are designed to provide perfect intonation and to be very durable, which is good when you're strumming them with all of that Spanish passion that otherwise give the strings kind of a hard time.
Would you like to know more?
Check out our article Top 10 Best Classical Guitar Strings for more info.
Related product comparisons: