How do they stack up? The   Donner Tutti Love Chorus Guitar Effect Pedal vs the   Boss CH-1 Stereo Super Chorus
Today's product comparison has Music Critic comparing the   Donner Tutti Love Chorus Guitar Effect Pedal to the   Boss CH-1 Stereo Super Chorus. The Music Critic reviews can help point you towards models and brands that suit your needs. This product comparison article is just one in a series titled Best Chorus Pedal for Guitars in 2021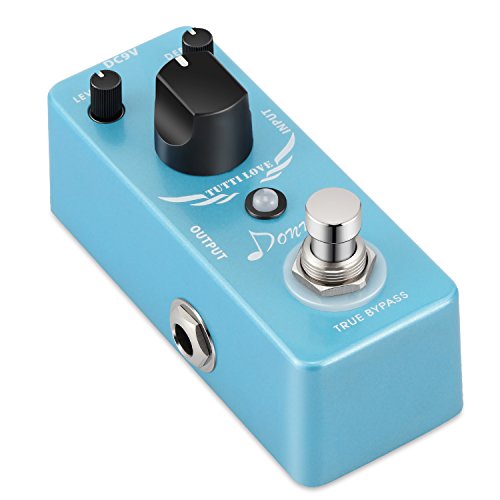 Everyone has different preferences and priorities, so to make choosing easier we have attempted to give a frank review of the products. Let's start with the   Donner Tutti Love Chorus Guitar Effect Pedal.

Next let's have a look at the   Boss CH-1 Stereo Super Chorus. Boss pedals are the brand that guitarists turn to when they are in need of gear that will do exactly what it's supposed to at an incredibly high standard. The CH-1 Stereo is no exception, an excellent 'working mans' pedal with high-quality output and the nearly indestructible build you expect from Boss products.
Reasons to buy the   Boss CH-1 Stereo Super Chorus
Functionality is very good with 4 knobs doing the work - Level, EQ, Rate, and Depth. All are standard when it comes to the chorus and in the typical Boss fashion, they work flawlessly, a no-frills offering of controls to manipulate modulation and shape your sound.
HEAD TO HEAD COMPARISON
  Donner Tutti Love Chorus Guitar Effect Pedal
  Boss CH-1 Stereo Super Chorus
KEY FEATURES
+ True Analog
+ True Bypass
+ Stylish, Metal Shell
+ Full Tone
+ Affordable Price


+ Classic Boss quality in both sound and build.
+ Great functionality with Level, EQ, Rate and Depth knobs
+ Mono/Stereo output for multi-amp splitting
+ Boss 5 year warranty


WHAT OUR TEAM THOUGHT
For anyone looking for a chorus pedal that will give you a full, thick sound, then this one from Donner is a great choice. It also is affordably priced, which is no bad thing.
 Another wonderful offering from Boss. Top notch output and 'bomb proof' build all at a respectable price. What's not to like.
Would you like to know more?
You may also be interested in our article Best Chorus Pedal for Guitars in 2021.
Similar Product reviews: