Select and Compare: Blackmagic Design URSA Mini 4.6K Digital Cinema Camera to the GoPro HERO5 Black Edition Camera
In this comparison we put the Blackmagic Design URSA Mini 4.6K Digital Cinema Camera and GoPro HERO5 Black Edition Camera head to head in a battle to find out which wins the specifications war. You might think it all comes down to the price, but frankly there is a lot more to it. If you would like to see more product comparisons and reviews in this category, click here.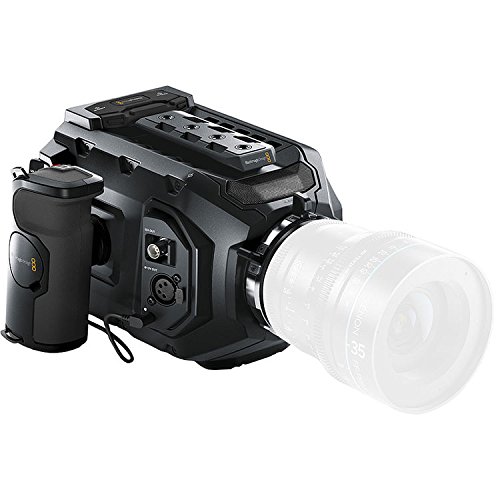 The first product we will be looking at is the Blackmagic Design URSA Mini 4.6K Digital Cinema Camera. Whether or not you're into the dark arts, the Blackmagic Cinema Camera will give you music videos that are out-of-this-world good. This is a dedicated cinema camera, so it's main purpose is to shoot amazing video footage. If you're ready to take your music video shoots to the next level, this is a great option to explore.

Next let's have a look at the GoPro HERO5 Black Edition Camera. Action lovers can stop their search here! If you're looking to incorporate a first-person point-of-view in your music videos, or you love to record in a variety of outdoor conditions you'll definitely want to check out the GoPro HERO5.
Let's take a closer look at the Blackmagic Design URSA Mini 4.6K Digital Cinema Camera
The URSA Mini is a size down from the full URSA models. It features a compact (read: convenient) size and its body is made from Magnesium alloys in order to keep the URSA Mini lightweight at 5 pounds. To make the camera more acceptable for handheld usage, a side handle is included. There is a rosette located on the side for the handle, which can control stop/start with a LANC connection.
Reasons to buy the GoPro HERO5 Black Edition Camera
HERO5 Black is the most powerful and easy-to-use GoPro ever, thanks to its 4K video, voice control, one-button simplicity, touch display, and waterproof design. Smooth stabilized video, crystal-clear audio and pro-quality photo capture combine with GPS to make HERO5 Black simply the best GoPro today. The fact that you can even shoot hands-free by using simple commands means you can get very creative in your recordings and angles, creating music videos that are fresh, modern, and on-trend.
HEAD TO HEAD COMPARISON

Blackmagic Design URSA Mini 4.6K Digital Cinema Camera

GoPro HERO5 Black Edition Camera

KEY FEATURES

+ Super-35mm CMOS Sensor
+ 4608 x 2592 Video up to 60p
+ Compressed Raw Recording



+ Rechargeable Battery (HERO5 Black)
+ Waterproof unit
+ Curved and Flat Adhesive Mount
+ Advanced video stabilization



WHAT OUR TEAM THOUGHT

 With the Blackmagic URSA MMiniDigital Cinema Camera, you're truly getting a high-quality unit at a very affordable price. The image quality and video quality is fantastic, and doesn't leave you with vignetting or magenta casting due to their color science technology. The small size and lightweight design mean you can spend many hours working until you get all the right shots, and if your arms do get tired, it does support the option for a shoulder mount.

 There is a lot to love about this camera. GoPro is designed to be out in the elements, and are known for their rugged and durable design. This particular camera is waterproof up 33 feet! Its advanced video stabilization means you can get moving and grooving for your shots, and still produce smooth, stunning videos.We absolutely love the fact that you have the option of shooting hands-free, and with the single touch of a button, the power turns on and the video begins filming automatically. Overall, this camera provides so much versatility in how and where you shoot - from high elevations to underwater, hands-free or with the single touch of a button. The video production is smooth, stunning, and high-quality - for action oriented music videos this is the best camera option.
Read the complete review
Check out Music Critic's in-depth article 11 Best Cameras for Music Videos in 2022 which includes even more information.
Other product comparisons: