How do they stack up? The Sharp GX-BT9X vs the Panasonic RX-D55GC-K
See how the Sharp GX-BT9X stacks up against the Panasonic RX-D55GC-K in today's product comparison. Not sure which is right for you? Read on and find the perfect item for your needs. If you would like to see more product comparisons from the same category, click here.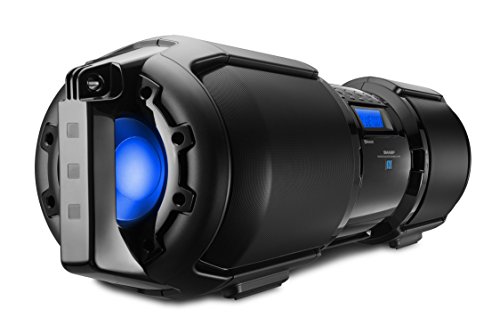 The first product we will be looking at is the Sharp GX-BT9X.

And now we will have a look at our second product, the Panasonic RX-D55GC-K.
HEAD TO HEAD COMPARISON

Sharp GX-BT9X

Panasonic RX-D55GC-K

KEY FEATURES

+ Wireless capabilities.
+ Bass boost switch.
+ Durably built.
+ Interesting input options.





+ Lightweight and portable.
+ High performance 2-way class drivers.
+ Range of uses.
+ Dynamic sound visualizer.
+ Affordable price.
+ Reputable brand.



WHAT OUR TEAM THOUGHT

Whilst it doesn't have the waterproof characteristics of the JBL boombox, it provides well driven bass which doesn't get lost in an outside space and won't set you back half as much. We like the mic and jack inputs that essentially give it mini-amp abilities.

Despite not being bestowed with Bluetooth connectivity capabilities this CD player/boombox has a variety of input options which still make it a highly versatile piece of kit. Panasonic are at the top of their game and this is an exceptionally well designed and manufactured portable CD player.
Read our full review
You might also be interested in Music Critic's in-depth article on this topic, 10 Best Boomboxes in 2023.
Related product comparisons: