Side-by-side comparison of the Yamaha FG830 and the Best Choice Products 41in
Today's product comparison has Music Critic comparing the Yamaha FG830 to the Best Choice Products 41in. Not sure which is right for you? Read on and find the perfect item for your needs. If you would like to see more product comparisons from the same category, click here.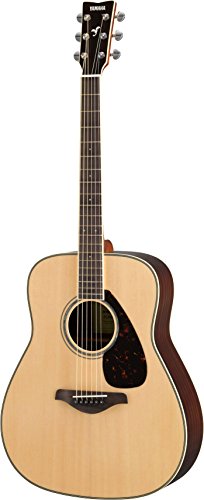 Everyone has different preferences and priorities, so to make choosing easier we have attempted to give a frank review of the products. Let's start with the Yamaha FG830.

The second product we will be examining in this comparison is the Best Choice Products 41in.
HEAD TO HEAD COMPARISON

Yamaha FG830

Best Choice Products 41in

KEY FEATURES


+ Multiple acoustic guitar body styles to choose from (dreadnought and concert)
+ Rosewood and solid Sitka spruce make a beautiful appearance
+ Plug-in capability for loud sound allows you to be a performer now or in the future when you're trained up




+ Laminated wood exterior for a beautifully classic and unique design
+ Perfect all-inclusive beginner's kit with everything you could need to start playing
+ The best acoustic guitars will have a variety of colors and designs available - never go boring with a beginner guitar



WHAT OUR TEAM THOUGHT

We love plug-in acoustic guitars because they give the impression that you're always ready to play in front of crowds. Even if you don't want to now, it's always nice to have the option later. If you'd like an alternative, try out the Yamaha FG800; the quality of both the Yamaha FG800 and F830 is matched.

It's hard not to like the beautiful classic wood design this electric guitar has. Matched with the beginner's kit, it's definitely deserving of its place on our top 10 list.
Want to find out more?
Check out Music Critic's in-depth article 10 Best Beginner Guitars in 2022 which includes even more information.
Similar Product reviews: