Compare the Ernie Ball 2146 Earthwood Acoustic Guitar String Set to the Martin M140 Bronze Acoustic Guitar Strings
See how the Ernie Ball 2146 Earthwood Acoustic Guitar String Set stacks up against the Martin M140 Bronze Acoustic Guitar Strings in today's product comparison. Not sure which is right for you? Read on and find the perfect item for your needs. This article is part of a series called Top Quality Strings For Your Acoustic Guitar in 2019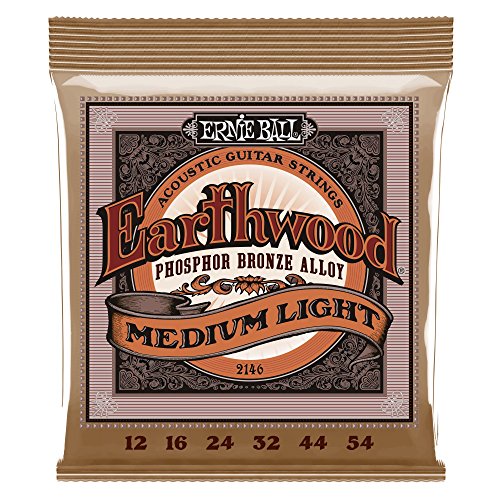 The first product we will be looking at is the Ernie Ball 2146 Earthwood Acoustic Guitar String Set. Since 1962 Ernie ball is amongst the leading manufacturers of strings and accessories making ideas comes to life. From Keith Richards to jimmy page all have used Ernie ball strings to make history. Combining the latest technology, state of the art materials and passion Ernie ball is here to enhance your jamming experience.

And now we will have a look at our second product, the Martin M140 Bronze Acoustic Guitar Strings. Aiming towards innovating best quality strings, Martin has positioned itself amongst the best string manufacturers. Compensating you with state of the art strings under an affordable price range, Martin is here to make history.
Examining the Ernie Ball 2146 Earthwood Acoustic Guitar String Set
Earthwood series is perfectly wounded to match any genre giving you the experience of your life. 2146 hardwood guitar strings mark the same identity with a price range that anyone can easily afford.
A good look at the Martin M140 Bronze Acoustic Guitar Strings
People who are looking forward to playing clear, brilliant and long sounds must check out this affordable 3-pack acoustic guitar strings of Martin's quality light acoustic guitar strings. M140's 80/20 composition makes it possible to bring all that lies within these strings.
HEAD TO HEAD COMPARISON
Ernie Ball 2146 Earthwood Acoustic Guitar String Set
Martin M140 Bronze Acoustic Guitar Strings
KEY FEATURES
- Rich expensive sound with ultimate clarity.
- Element shield plating for ensuring long-lasting, best strings life.
- Trusted by the best.


- Bronze winding alloy over steel.
- Brilliant tones and a longer life.
- Renowned by the masses.


WHAT OUR TEAM THOUGHT
Giving you the best in less is what Ernie ball's 2146 earthwood strings excel in. With rich sound, lock twist mechanism and brass plated high carbon steel core wire these guitar strings have set in up a perfect example.
These strings give you more for less. With studio quality performance, bronze alloy and brilliant tones these strings are the perfect partners for every musician out there.
Would you like to know more?
Check out our article Top Quality Strings For Your Acoustic Guitar in 2019 for more info.
Other product comparisons: