Side-by-side comparison
See how the Auralex Acoustics Studiofoam stacks up against the 2" SoundTrax Studio Acoustic Foam in today's product comparison. You might think it all comes down to the price, but frankly there is a lot more to it. If you find this article interesting, you might also want to read Top 6 Best Acoustic Foam Panels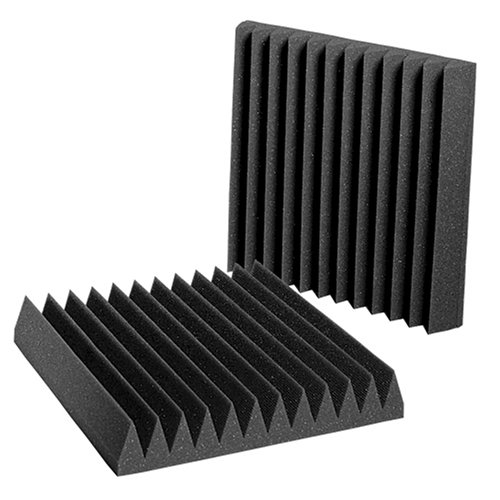 The first product we will be looking at is the Auralex Acoustics Studiofoam. To start off our list we'll take a look at a product that many could find good use for. Auralex Studiofoam panels are small panels that fit any small room and enable you to spot treat your studio. They're also cheap, which is nice.

The second product we will be examining in this comparison is the 2" SoundTrax Studio Acoustic Foam.
Taking a closer look at the features of the Auralex Acoustics Studiofoam
Here is a really good review that tells you everything you need to know about these! He also goes into details about where he put the foam up, and why. He'll also play some beats from before and after he put the foam panels up so that you can hear the difference yourself! Listen for the echo!
Examining the 2" SoundTrax Studio Acoustic Foam
If you just want to find something that works well enough without breaking the bank there's always SoundTrax's Studio Acoustical design wall Foam. It works great for any room, looks good and doesn't cost very much. They come in a really cool pattern that reminds us of a labyrinth, and it's nice that they don't look exactly like all other foam on the market.
HEAD TO HEAD COMPARISON
Auralex Acoustics Studiofoam
2" SoundTrax Studio Acoustic Foam
KEY FEATURES
+ Small, perfect for spot treatment
+ 2" thick
+ Cheap
+ 0.80 NRC


+ Easy to put up
+ Cool design charcoal acoustic panels
+ Affordable
+ 2" thick


WHAT OUR TEAM THOUGHT
The Auralex Studiofoam panels are 1 foot squares of 2 inches thick studio foam, and are perfect for little problem areas that give you an echo problem. You can choose to only use the Aralex Studiofoam panels, or mix them with other foam products.
These charcoal acoustic panels easy to mount with some NextTape adhesive tabs, so they work well even for renters that can't ruin the walls of their apartment.
Read the complete review
Also see Music Critic's article Top 6 Best Acoustic Foam Panels which includes even more information.
See more head-to-head comparisons of products: