Select and Compare: Yamaha L-Series LS16M to the Ovation CE44-5
We take a look at two popular items, the Yamaha L-Series LS16M and the Ovation CE44-5. Not sure which is right for you? With so many great options on the market that's hardly surprising, so read on and see if we can help you reach a decision. If you would like to see more product comparisons from the same category, click here.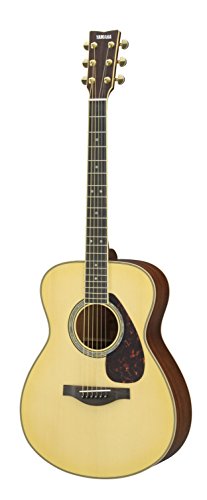 The first product we will be looking at is the Yamaha L-Series LS16M. You know the person in the shop that you ask to find out more about the product and he tells you all this stuff that you would never find out on your own? We found that guy, and he's very helpfully explaining why this guitar is so good. Just click on the link below and he'll not only tell you about the guitar, but will play it for you too! When you listen, pay attention to the brightness and clarity of this guitar, it's perfect for country music but works great for pop and other genres as well!

The second product we will be examining in this comparison is the Ovation CE44-5. If you love blues and rock n' roll, you're going to like this guitar! It has the perfect sound for the job with clear highs and balanced bass, thanks to its unusual multi sound hole design. Here is a link to a good video review to watch if you're curious about this guitar, you have to hear it!
More about the Yamaha L-Series LS16M
Yamaha has developed guitars that feature what they call A.R.E, which is short for acoustic resonance enhancement, which is an original wood reforming technology. The guitars also have SRT Zero Impact guitar Pickups, that are suppose to affect guitar tone as little as possible.
Taking a closer look at the features of the Ovation CE44-5
[lyte id="PaJ6eHt1KmU" /]
HEAD TO HEAD COMPARISON

Yamaha L-Series LS16M

Ovation CE44-5

KEY FEATURES


+ Great, bright and clear guitar tone
+ SRT Zero Impact Guitar Pickup System
+ Hard case included



+ Unique multi sound hole design
+ Great for blues and rock
+ Four different, nice colors



WHAT OUR TEAM THOUGHT

This is a great guitar for the customer that wants to find something that is classic, but still feels modern and updated. The sound is great and the design is familiar and timeless. The SRT Zero Impact Guitar Pickups won't change your guitar tone, and the guitar is built with A.R.E. (Acoustic resonance enhancement). Check out the Yamaha apx500iii thinline as an alternative.

This is the perfect guitar for blues and rock. It sounds really good thanks to the unusual holes, and they make it look great too. We believe that this is the kind of musical instrument that you either like or dislike instantly, and most often that feeling is correct. So if you like it- go for it, you're going to love it!
The Bottom Line
Also see Music Critic's article Top 10 Best Acoustic Electric Guitars Under $700 which includes even more information.
Find more comparisons: