1 on 1 Testing
In this brief comparison, we are going to be putting two products head to head. The team take this task very seriously - two products enter, but only one can leave. If you would like to see more product comparisons from the same category, click here.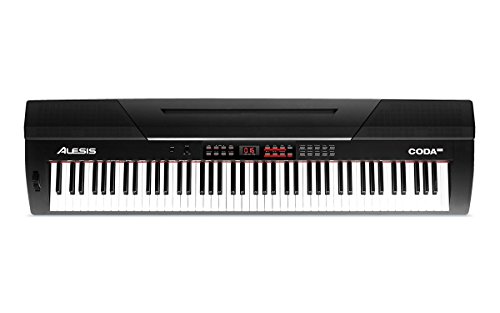 First, let's have a look at the Alesis Coda Pro Weighted Action. Alesis Professional are now a very well known name in the electronic music industry, and have a reputation for making some excellent weighted keyboards that rival premium manufacturers without the equivalent price tag. The Coda range is one of their best selling keyboard ranges, and it's the Coda Pro that we've chosen to include here. It's full-size 88keyed weighted keyboards been designed for a wide range of uses, from students in their bedrooms to live use. We can tell you straight away that it's a superb option, with some nice features at an excellent price, but let's look at things in a little more detail.

The second product we will be examining in this comparison is the Casio Privia PX160BK 88key. You almost certainly knew that Casio made watches, but did you know that they make keyboards too? The one we've got here is the Casio Privia PX160, which is one of the full-size options in the Casio range, which is designed to offer a decent mix of value and features in what is a mid-range 88keyed digital piano. Casio market the Privia PX160 as beginner to intermediate options, and we'd certainly agree.
More about the Alesis Coda Pro Weighted Action
Sound
A closer look at the Casio Privia PX160BK 88key
Sound
HEAD TO HEAD COMPARISON
Alesis Coda Pro Weighted Action
Casio Privia PX160BK 88key
KEY FEATURES
+ Superb value
+ Great quality
+ Good range of features


+ Nice hammer action keys
+ Great sound

Cons:
- Plain looks
- Other budget options offer more


WHAT OUR TEAM THOUGHT
There are plenty of features on the Coda Pro, which make it a very versatile digital keyboard indeed. You get 88 weighted keys with hammer action, 20 built-in voices courtesy of AiR Music Technology & SONiVOX, 60 preset songs, 50 patterns, and lesson modes. You can also record your own stuff on the keyboard itself, which is a nice touch. Outputs come in the form of USB-midi and midi din, ¼ inch aux, ¼ inch headphone jack ,and there's a stereo ¼ inch aux input. Everything you need for peripherals.
This is another digital keyboard that has been designed to emulate a grand piano as best as possible. You won't find lesson modes and things like that, but you do get excellent weighted keys with hammer-action, along with line-level connections. Class compliant USB means you can use the Privia PX160 with your PC or Mac without drivers.
Read the complete review
Check out Music Critic's in-depth reviews which includes these two plus other potential contenders.
See more head-to-head comparisons of products: