Side-by-side comparison
In this brief comparison, we are going to be putting two products head to head. Find out what separates these two items with the full comparison review below. For more information and product comparisons, check out our longer article here.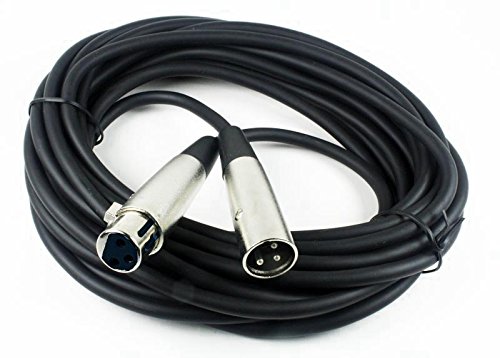 Everyone has different preferences, and we hope our frank reviews will make your decision easier. First, we will take a look at the CBI MLC20 Low Z XLR Microphone Cable. For the budget-minded amongst us, the CBI MLC20 XLR cable is perhaps the best choice. With a sticker price on the low end, and with good overall quality, this CBI cable is made for those looking to save a few bucks and still be confident enough that their sound quality will not take a hit. In short, the CBI cable is built with the intention of keeping the sticker price as low as possible, while still delivering a quality product.

The challenger is the AmazonBasics XLR Male to Female Microphone Cable. This AmazonBasics XLR cable is similar to the one we reviewed above, the major difference being that the above cable was a ten footer, while this one is a 25 footer. Now, the great thing about these AmazonBasics is that, as said above, they always deliver the market standard quality yet at a lower price. Thus this brand is always a safe way to go.
A deeper look at the features of the CBI MLC20 Low Z XLR Microphone Cable
This Low-Z XLR cable comes with a male and female connector compatible with all the equipment that you would expect. It also comes with a 90-day warranty from CBI. People also appreciate the fact that CBI is a family run business that has been in operation for over 25 years. CBI has been a name people trust, and consumers keep coming back time and time again for their budget gear. Overall, this will probably be the best steal on the market today.
But what about the AmazonBasics XLR Male to Female Microphone Cable
Now, if you will need quite a long cable – a 25 footer to be exact – you can rest assured that this AmazonBasics will deliver good enough quality to keep the interference down to a minimum. The longer the cable is, the higher the chance of interference, and so if you are going with a long cable, make sure you are not getting a piece of junk. Going with this AmazonBasics cable can assure you of that.
HEAD TO HEAD COMPARISON

CBI MLC20 Low Z XLR Microphone Cable

AmazonBasics XLR Male to Female Microphone Cable

KEY FEATURES

+ Low sticker price
+ Good overall quality
+ A home-run company with 25 years experience



+ Trusted name
+ Good quality
+ Low price



WHAT OUR TEAM THOUGHT

 This CBI XLR cable was built with the intention of creating a decent cable with a low sticker price. Those looking for a budget cable that can be trusted should be happy.

 As was said before, the AmazonBasics brand is always a safe bet if you are looking to save some cash, yet still want a good quality product. If you are in the market for a 25-foot XLR cable, consider this AmazonBasics.
Discover more
You may also be interested in our article 10 Best XLR Cables for Microphones and Music Gear in 2023.
Related head-to-head product reviews: