Side-by-side comparison of the Stewart Electric Travel Guitar and the Anygig AGE
Music Critic review products for everyone, from professionals to enthusiasts, and are written in plain English to make it easier to understand the options available and decide between them. The Music Critic reviews can help point you towards models and brands that suit your needs. Click here if you would like to see more product reviews in the same category.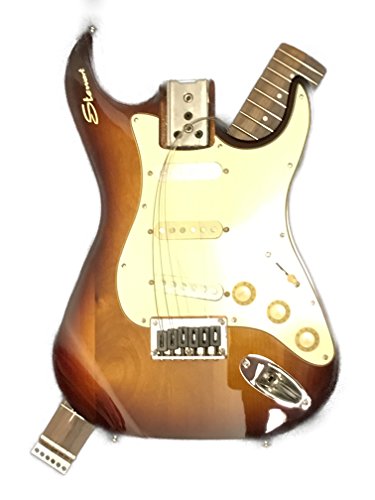 First, let's have a look at the Stewart Electric Travel Guitar.

Next up is the Anygig AGE.
HEAD TO HEAD COMPARISON

Stewart Electric Travel Guitar

Anygig AGE

KEY FEATURES

+ Incredibly compact size for transit.
+ Forward thinking design concept.
+ Regular guitar with an assemble yourself attitude.



+ Affordably priced model.
+ Distinctly compact body.
+ Tune-o-matic hardware.
+ Humbucking pick-up.



WHAT OUR TEAM THOUGHT

It is a rather unusual solution, which undoubtedly impacts the footprint of the instrument, nearly halving it altogether.

It is another very different take on a travel guitar, it is unbelievably small and the manufacturers have included a detachable rest for extra comfort as these atypical instruments take a little getting used to. It is genuinely mind-boggling how much you can cut out and still get a jam-tastic travel worthy instrument, this little guy weighs just 1.4kgs which is practically unbeatable.
Want to find out more?
Check out Music Critic's in-depth reviews which includes these two plus other potential contenders.
Similar head-to-head comparisons: