1 vs 1 Comparison
Music Critic review products for everyone, from professionals to enthusiasts, and are written in plain English to make it easier to understand the options available and decide between them. Our tests and reviews can help point you towards models and brands that suit your needs. If you would like to see more product comparisons from the same category, click here.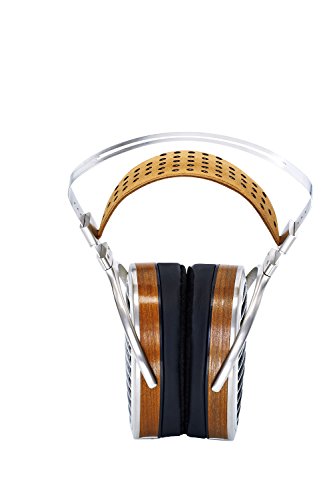 First, let's have a look at the HIFIMAN HE1000 Open-Back Planar Magnetic Headphones. The HE1000 is another high-fidelity headphone set from HIFIMAN. They are known to deliver sound that is incredibly accurate. This is the world's first headphone whose diaphragm thickness measures in nanometers! This pair also has magnetic circuity that reproduces audio signal - giving you zero distortion, they are truly fantastic for listening to live music. It's as if you are in the room where the music was being recorded! That is how pure the sound is on this truly epic headphone set.

The second product we are looking at in this head-to-head review is the Samson SR850 Semi-Open-Back Studio Reference Headphones. The Samson SR850 are another great pair of semi-open-back headphones designed for professionals. They have a frequency response range of 10 Hz- 30 kHz which combined with it's 50 mm driver is enough to produce exceptional quality sound. If you are looking for a wider sound stage and appropriate bleed, this is the pair you need. The design ensures you get the best stereo imaging - so you hear the instruments distinctly.
More about the HIFIMAN HE1000 Open-Back Planar Magnetic Headphones
The HE1000 has remarkable window shade technology that serves to protect the drivers. This is a result of years of research and dedication from HIFIMAN. The HE1000 has a very soft and ergonomically-sound design - with a beautiful arch-shaped headband. Those who have used this pair of headphones found it to be one of their greatest purchases ever.
A good look at the Samson SR850 Semi-Open-Back Studio Reference Headphones
The headband adjusts itself and sits naturally on your head without being too snug, they are very comfortable to wear. You also get gold plated 1/8 and ¼ inch adapters with this pair of headphones. These headphones are great for mixing and playback, and really don't cost a lot. Samson is a pretty well-known name and has been producing recording equipment since the 80s. You can be sure of the quality and durability.
HEAD TO HEAD COMPARISON

HIFIMAN HE1000 Open-Back Planar Magnetic Headphones

Samson SR850 Semi-Open-Back Studio Reference Headphones

KEY FEATURES

+ Stylish and comfortable design
+ Excellent Magnetic drivers
+ High fidelity sound



+ Comfortable design
+ Perfect for mixing and playback
+ Two adapters included



WHAT OUR TEAM THOUGHT

 This pair is bound to turn heads with its lustrous metallic construction and wooden accents on the ear cups. We wouldn't be surprised if someone stopped you to inquire where you got the headphones from!

 This pair of headphones is quite common for playback and mixing, and are just the right design for professional use. The price is also quite reasonable. What is not to love about that?
Discover more
Also see Music Critic's article Top 10 Open-Back Headphones of 2022 which includes even more information.
Find more comparisons: