Side-by-side comparison
Music Critic review products for everyone, from professionals to enthusiasts, and are written in plain English to make it easier to understand the options available and decide between them. Our tests and reviews can help point you towards models and brands that suit your needs. You might also be interested in our article Best Multi Effects Pedal of 2023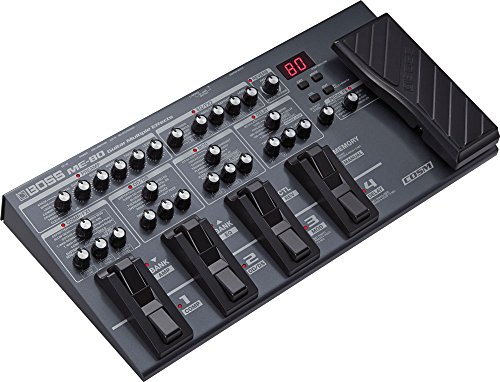 The first product we will be looking at is the Boss ME-80 Multi-Effects Pedal.

The second product we are looking at in this head-to-head review is the Zoom G1Xon Guitar Effects Pedal. Since 1983, Zoom corporation has been spending a great deal of time researching the audio industry. Building new ideas and carrying them forward is what Zoom loves to do.
Taking a look at the features of the Zoom G1Xon Guitar Effects Pedal
From manufacturing recording devices to multi-effects pedal processors, this company has been dominating the league for over thirty years. Zoom has set a reputation for manufacturing innovative yet affordable audio products that one can count on to make history.
HEAD TO HEAD COMPARISON

Boss ME-80 Multi-Effects Pedal

Zoom G1Xon Guitar Effects Pedal

KEY FEATURES

+ Multi-effects are accessible via a simple knob-based interface.
+ Massive selection of effects.
+ Eight multifunction footswitches and an expression pedal.



+ A choice of 100 reverberations with 5 pedal controlled effects.
+ Simultaneously use up to 5 effects - in any order.
+ A total of 100 memory locations for storing user created patches.



WHAT OUR TEAM THOUGHT

Innovate or renovate, you decide the use of this multi effects device. With dial up tones for easy access, USB audio/MIDI built-in interface - Boss makes sure that you don't miss out on any features.

One of the most sublime solutions of a multi effects device is the G1Xon by Zoom. With an onboard chromatic tuner, auto saving function and 68 built-in rhythm patterns this device stands out to be amongst the top multi effects pedals.
Want to find out more?
Check out Music Critic's in-depth article Best Multi Effects Pedal of 2023 which includes even more information.
Similar Product reviews: