How do they stack up? The AmazonBasics Folding A-Frame Guitar Stand vs the Ultimate Support GS-100 Guitar Standd
We will be looking at two popular products, the AmazonBasics Folding A-Frame Guitar Stand and the Ultimate Support GS-100 Guitar Standd. Not sure which is right for you? With so many great options on the market that's hardly surprising, so read on and see if we can help you reach a decision. This product comparison article is just one in a series titled 17 Best Guitar Stands for Acoustic & Electric Guitars in 2022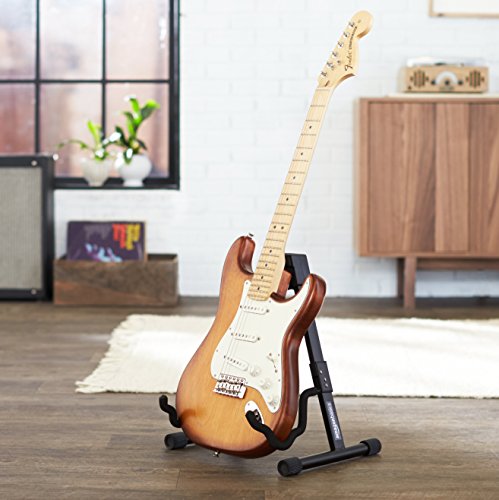 Everyone has different preferences, and we hope our frank reviews will make your decision easier. First, we will take a look at the AmazonBasics Folding A-Frame Guitar Stand. This is a universal guitar stand perfect for both electric and acoustic guitars. It has an adjustable width with three settings to easily accommodate any size of the guitar. From a small kid's guitar to a banjo, this thing is capable of securely holding it all. The non-slip rubber feet help it stand firm on the ground, meaning it won't move, even if your guitar is quite heavy.

The second product we are looking at in this head-to-head review is the Ultimate Support GS-100 Guitar Standd.
HEAD TO HEAD COMPARISON

AmazonBasics Folding A-Frame Guitar Stand

Ultimate Support GS-100 Guitar Standd

KEY FEATURES

+ Ideal for both acoustic and electric guitars.
+ Has three adjustable width settings to hold guitars of varying sizes.
+ Padded arms to prevent scratches while offering support.



+ Cushioned padding to protect your guitar's finish.
+ Has an additional strap for extra security.
+ Patented leg-locking system for increased stability.



WHAT OUR TEAM THOUGHT

 - You can easily pick up and put back the guitar by the headstock. It rests smoothly on the stand. There are little things that make it all the more functional like guitar pick slots. It's a great investment to keep your guitar safe and sound.
Read the complete review
Check out Music Critic's in-depth article 17 Best Guitar Stands for Acoustic & Electric Guitars in 2022 which includes even more information.
Similar head-to-head comparisons: