1-v-1 Product Comparison - the Fender Champion 100 vs the Fender Mustang GT 40
In this brief comparison, we are going to be putting two products head to head. There is a lot more to this sort of decision than price, so we see if we can help you decide which is best for your needs. This product comparison article is just one in a series titled 10 Best Guitar Amps Under $500 in 2022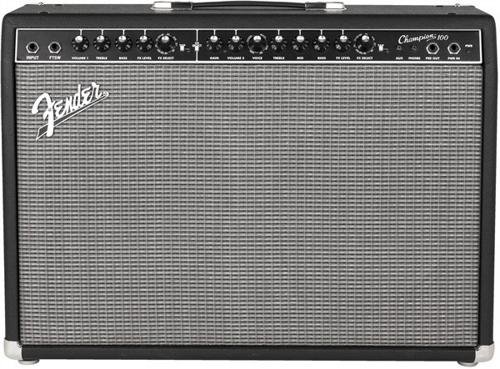 Contestant number one is the Fender Champion 100.

The second product we will be examining in this comparison is the Fender Mustang GT 40.
HEAD TO HEAD COMPARISON

Fender Champion 100

Fender Mustang GT 40

KEY FEATURES

+ Excellent sound quality
+ Durably built
+ Aux input
+ 2 12" speakers
+ Fender backed reputation



+ Lightweight
+ Modeling presets
+ Great tone
+ Fender Tone app
+ 40-watts



WHAT OUR TEAM THOUGHT

This amp is perfect for acoustic and electric guitars. The sound is really clear on the clean tone and nicely gritty on the overdrive channel. It's very versatile and doesn't come with too many unnecessary surprises.

A compact version of the Mustang GT 100 is sometimes exactly what you want. 100-watt amps generally are quite a bit heavier and bulkier than necessary. The 40-watt amp allows you to be a little more portable and take up less space around the house. The presets are the same on the 40-watt amp and will give any guitar player a wide range of tones to pick from and play along with.
Discover more
You may also be interested in our article 10 Best Guitar Amps Under $500 in 2022.
Similar Product reviews: