1 vs 1 Comparison
We take a look at two popular items, the Pioneer Pro DJ XDJ-RX DJ Controller System and the PIONEER DDJSR Pro DJ Controller. Not sure which is right for you? Read on and find the perfect item for your needs. If you would like to see more product comparisons and reviews in this category, click here.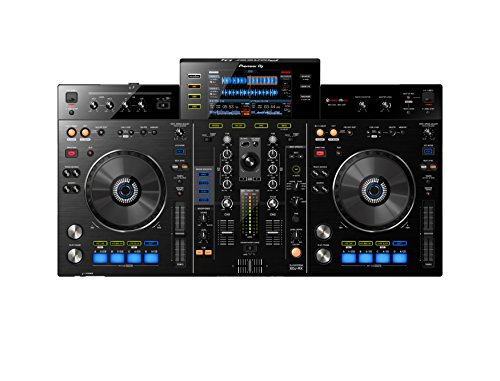 Everyone has different preferences and priorities, so to make choosing easier we have attempted to give a frank review of the products. Let's start with the Pioneer Pro DJ XDJ-RX DJ Controller System.

Next let's have a look at the PIONEER DDJSR Pro DJ Controller. Whether it's the simple setup, the durability, the amazing sonic character or some of the most professional features available, everything you get with this DJ controller is the absolute top quality. Pioneer never stops to amaze its customers and this digital audio setup is no exception
HEAD TO HEAD COMPARISON
Pioneer Pro DJ XDJ-RX DJ Controller System
PIONEER DDJSR Pro DJ Controller
KEY FEATURES
+ Comes with a built-in LCD screen that makes practicing and mixing easy for pros and first-timers alike.
+ Easy setup. Simply plug in the power, DJ speakers and add a music source.
+ It works with Pioneer's own software, Rerkordbox, which means that you don't have to use it with your laptop.
+ Includes every feature you need to make quality mixes such as extensive inputs and outputs, a pro mic input, EQ, and much more.


+ Equipped with 16 performance pads to execute functions like hot cue, slicer, roll, and sampler.
+ Large jog wheels to enhance its scratching and the mixing capabilities.
+ The setup is very simple and is USB operated.
+ Comes with all the features necessary to provide you with quality mixes.


WHAT OUR TEAM THOUGHT
If you're looking for a laptop-free solution as a DJ or the Pioneer Pro DJ XDJ-RX DJ Controller System is the perfect pick for you.
Easily one of the best mid-professional digital units around, this controller is made to last. With its compact design, it's easy to take on the go.
Want to find out more?
Check out our article 10 Best DJ Controllers for 2021 for more info.
Similar Product reviews: