How do they stack up? The Jameson Blue Thinline vs the Jameson Left Handed
Today Music Critic will be comparing the Jameson Blue Thinline to the Jameson Left Handed. Find out what separates these two items with the full comparison review below. You might also be interested in our article Top 10 Best Rated Electric Acoustic Guitars Below $500 in 2023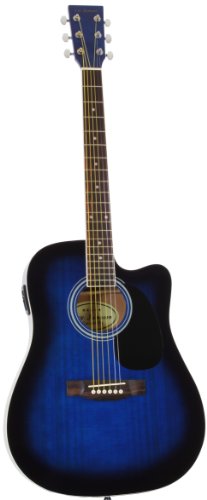 Contestant number one is the Jameson Blue Thinline. A very interesting addition to our list is this thinline guitar from little-known manufacturers Jameson. The first thing to note of course is the price. This thing is an absolute steal, coming in nowhere near even half the $500 budget. You'd be forgiven of course for thinking that this is an electric acoustic worth ignoring, but you may well be wrong.

The second product we are looking at in this head-to-head review is the Jameson Left Handed. If you're left handed, then you might find that your choices are somewhat more limited than your right handed friends, which makes picking the best electric acoustic somewhat tricky, as there are fewer of these than standard acoustics. We have you covered though - Jameson's left-handed thinline guitar is a superb choice.
A closer look at the Jameson Blue Thinline
Let's start with the looks of this guitar. It's finished in a very nice blue, fading to black around the edges, with white binding. The wood is clearly not of the highest quality or most interesting grain, but that doesn't get in the way of the fact that this is a smart looking guitar, particularly if you're not overly keen on the usual wood coloring.
But what about the Jameson Left Handed
You really don't get a guitar much cheaper than this, if at all, but that doesn't mean you're getting a low-quality product. It's a full-size guitar, roughly in the dreadnought shape, but they've given some great thought to ergonomics, with a handy cutaway on the upper frets, and a thin line depth.
HEAD TO HEAD COMPARISON

Jameson Blue Thinline

Jameson Left Handed

KEY FEATURES

+ Outstanding price
+ Good looking paintwork
+ Compact slimline body



+ Left handed budget option
+ Cutaway and slim body make for easy playing
+ Nice glossy finish to the body



WHAT OUR TEAM THOUGHT

We simply had to include this guitar on our list because of that crazy price, which is under a quarter of the budget. We'll freely admit that it's definitely in the low end of choices when it comes to material quality, tone and specification, but for this price it is certainly worth a shot if you're not sure this type of guitar is right for you. It'd be best for kids too.

If you need a left handed electric acoustic guitar and don't want to spend too much, then you really can't do much better than this. This guitar is best suited to beginners because of not only its price, but the really nice slimline body too. All round, it's definitely worth a look, and will be under most people's' budgets.
Read the complete review
Also see Music Critic's article Top 10 Best Rated Electric Acoustic Guitars Below $500 in 2023 which includes even more information.
Similar head-to-head comparisons: