How do they stack up? The  Epiphone DR-212 Dreadnought 12-String Guitar vs the Seagull Coastline S12 Cedar Guitar
We will be looking at two popular products, the  Epiphone DR-212 Dreadnought 12-String Guitar and the Seagull Coastline S12 Cedar Guitar. Not sure which is right for you? With so many great options on the market that's hardly surprising, so read on and see if we can help you reach a decision. This product comparison article is just one in a series titled Best 12 String Guitars, Electric and Acoustic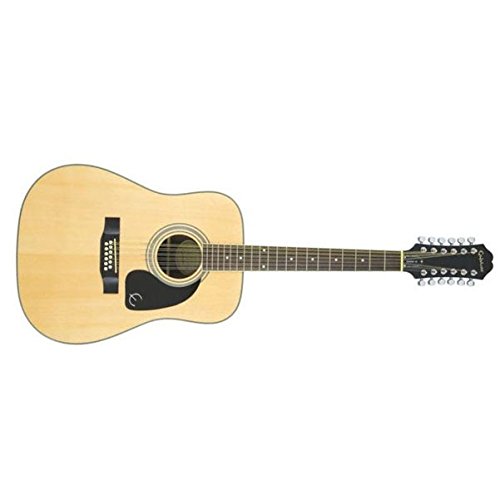 Everyone has different preferences, and we hope our frank reviews will make your decision easier. First, we will take a look at the  Epiphone DR-212 Dreadnought 12-String Guitar. The DR-212 is a genuinely well-made guitar as you might expect of any other Epiphone product. The DR-212 is not just any other dreadnought guitar that comes with 6 strings.It has an excellent construction that supports the increased tension of 12 strings. The DR-212 also has a right balance, cutting, and attention that gives you the kind of tone that you expect from a 12 string guitar.

The second product we are looking at in this head-to-head review is the Seagull Coastline S12 Cedar Guitar. This is an ideal guitar for those that are looking for perfection with their instruments. Seagull as a whole have some top gear guitars that are playable and stay in tune. Undoubtedly, the Seagull S12 is rich and full of sound as you would expect from any quality 12-string guitar.
Reasons to buy the  Epiphone DR-212 Dreadnought 12-String Guitar
Now wonder, the DR-212 is widely thought of as the ultimate go-to guitar for rock, folk, blues and country and everything in between. The select spruce top helps it to breath. What is more? It gets better with age, and the more you play it. The mahogany-made body has enough size to adequately support and handle the extra tension of the 12 strings so that the guitar stays in tune.
But what about the Seagull Coastline S12 Cedar Guitar
The seagull coastline S12 cedar guitar is made with incredible craftsmanship and comes with all great S12 Dreadnought traits such as an eco-friendly wide back, ultra-thin semi-gloss finish and a tried and tested solid cedar top. The wild cherry wood produces a beautiful sound that falls between the bright sound of maple and the mellow tone of mahogany. However, note that the cedar top guitar does not produce super and bright sound like maple of spruce. The choice of wood, wild cherry that is grown locally, is also eco-friendly.
HEAD TO HEAD COMPARISON
 Epiphone DR-212 Dreadnought 12-String Guitar
Seagull Coastline S12 Cedar Guitar
KEY FEATURES
+ Go-to for Rock, Folk, Blues & Country
+ Spruce Top for Breathability
+ Mahogany Body


+ Rich and full of sound
+ Incredible craftsmanship
+ Ultra-thin semi-gloss finish


WHAT OUR TEAM THOUGHT
A great 12 stringed guitar at such a price is an incredible bargain. We loved its quality and playability. It has a beautiful tone and bright sound. Besides, it has a great look suitable for one that should go for a much higher price.
 We like it because it is easy and fun to play, solid makeup, good feel, great sound, powerful tone and easy pickup. Few guitars can be considered real keepers and this is certainly one of them. It would be hard to get a better deal at such a price.
Read the complete review
Check out Music Critic's in-depth article Best 12 String Guitars, Electric and Acoustic which includes even more information.
Similar head-to-head comparisons: