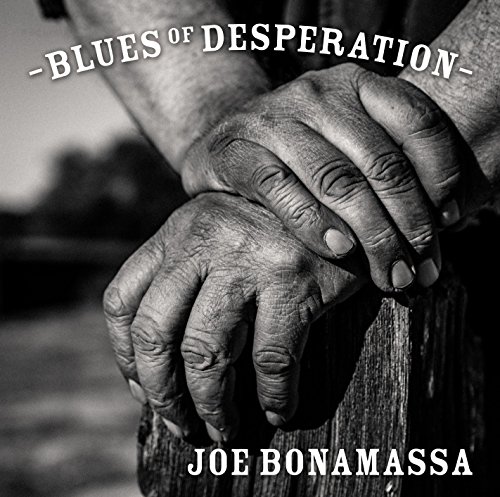 Release Date: Mar 25, 2016
Record label: J&R Adventures
Genre(s): Blues, Pop/Rock, Blues-Rock
Music-Critic Score
How the Music Critic Score works
Buy Blues of Desperation from
Amazon
Blues of Desperation - Fairly Good, Based on 2 Critics
AllMusic - 70
Based on rating 7/10
Despite its hardscrabble title -- a sentiment mirrored by the deeply etched black & white cover art -- 2016's Blues of Desperation is very much a continuation of the bright, varied blues-rock heard on Different Shades of Blue. On that 2014 album, Joe Bonamassa made a conscious decision to pair with a bunch of Nashville songsmiths to help sharpen his original material, and he brings most of them back for Blues of Desperation, too. The tenor of the tunes is somewhat heavy -- there are lonesome trains, low valleys, no places for the lonely -- and the production also carries a ballast, something that comes into sharp relief on the Zep-flavored title track but can be heard throughout the record.
Classic Rock Magazine - 60
Based on rating 3/5
All-original 12th solo album from the modern blues king. Opinion on Joe Bonamassa – the prodigious guitar nerd who supported BB King aged 12, and now makes records with (Led Zep/Maiden/Rush producer) Kevin Shirley – roughly splits into two camps: those who love his playing, which has challenged and shaped 21st-century blues rock, and those who just see a boring twat in a suit. .
Buy Blues of Desperation from
Amazon