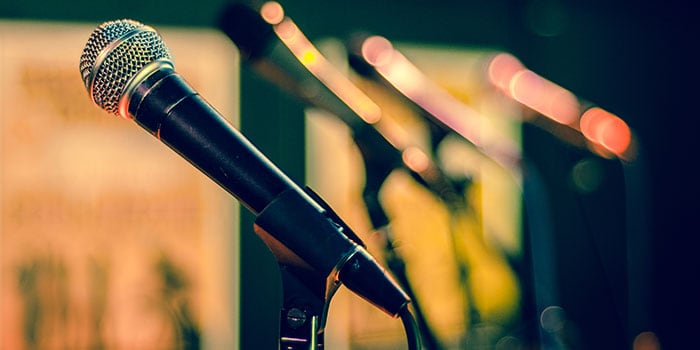 Apparently it is just an accessory but the importance of mic stand cannot be denied. Microphone stands are an important part of any stage and studio. There are quite some varieties in these and to have the best thing for you, it is important to know the types in and out. Whether you are a recording artist or an orator, you will inevitably come across a mic stand. So here is everything you need to know before buying the perfect product for yourself.
1. On Stage MS7201B Microphone Stand
This microphone stand from On Stage is pretty popular among performing artists. It has a round base that is very stable with a diameter of 10 inches. The internal counter clutch holds the upper shaft in place. You get a pretty wide height range to adjust the stand to your liking which is from 34 inches to 60 inches. This should cater to almost all heights. The end cast is solid with 5/8-27 threads. The tubing has been finished with powder coating to provide protection against moisture and dust. It is a simple and lightweight stand perfect for professional use.
WhyWe Liked It – With this stand you have some color choices too. There are black, silver and white options that go well on stage. You can match this with your other stage equipment and get a consistent and professional feel.
2. Atlas Sound MS-10C Round Base Mic Stand
This stand for microphones from Atlas has a round base and is chrome plated so you can be very sure about its sturdiness. If you are looking for something that can last long and sustain rough use too, this is exactly what you need. As for the height, it can easily be adjusted between 35 inches to 64 inches. This works out great in a setting where you constantly have to adjust the height, for instance, at church or an award ceremony. It will work smoothly with most microphones and give you great value for money.
WhyWe Liked It – It is simply superb quality because it is from Atlas Sound. This brand is pretty well-known for their musical equipment and knows how to produce durability while achieving affordability. And that is exactly what they have done with this stand.
3. Ultimate Support PRO-ST Pro Mic Stand
This stand from Ultimate Support is what every rocker needs for his performance. It has a moderately weighted base to provide necessary stability. However, it releases quickly so when you are in the groove and want to move on stage you can easily do so. The best thing is that it is compatible with most microphones thanks to its patented universal attachment. The heavy duty clutch is quite secure and like other components easily replaceable. It is, without doubt, one of the sturdiest mic stands in the market. First of all, it will not fall and even if you drop it accidentally, it will remain intact because of its durable finish.
WhyWe Liked It – This microphone stand makes plucking the mic in and out a breeze. You can do it using just one hand. A lot of stands cannot do this especially those that are foldable and light. This is what makes it great for those musicians that are a bit more energized on stage.
4. Hercules MS533B Hideaway Boom Stand
This boom stand from Hercules is all about providing you with convenience during performance. The boom 30.7 inches and you can adjust both the height and the angle in a second by loosening the knob and adjusting it to a position you find suitable. Similarly the height can be adjusted between 42 and 94 inches. The best thing in its set up is the Quick-N EZ adaptor that allows you to quickly and easily put the microphone in. This makes it an ideal stand for those hurried setups where you do not have a lot of time to fix equipment. The base is a tripod stand and that is why it is super light too only weighing 5.2 pounds.
WhyWe Liked It – It is super easy and quick to adjust and that is why it is one of the friendliest stands from Hercules. When you are on stage, the worst thing that can happen is you struggling to fix the microphone or not being able to remove it. With this, none of that is going to happen.
5. Konig & Meyer 25400 Boom Mic Stand
This black colored mic stand from Konig and Meyer is very light weighted. It weighs a little over 4 pounds and therefore is ideal for mobile musicians. If you have a heavy stand that does not let you roam around on stage, your performance can be affected in a negative way because a lot of musicians need to get their energy out by moving around. With this boom stand too you can adjust both the length and the tilt angle of the boom. The base tubes have caps to make it stable on almost all surfaces. As a result, there is no noise when it is moved.
WhyWe Liked It – If you are looking for simplicity then this particular stand is the answer. It is a thin and lightweight stand that is very inconspicuous. Also it is very affordable so great for amateurs who have a limited budget for support equipment.
6. DR Pro Tripod Mic Stand Telescoping Boom
This boom stand is simple looking and great for on stage use for any kind of setting be it at a school, concert stage or church. The booms basic length is 19 inches but extends up to 31 inches. As for the stands height it starts from 40 inches and can go up to 69 inches. Both of these can easily be adjusted. The finish on the stand is powder coated to make it durable and resistant to dirt. It is built using industrial standards that ensure that the product is well suited for professional use. Considering this it is absolutely good value for money.
WhyWe Liked It – This stand can easily be integrated into any studio or stage. It would not be wrong to say that its use therefore can be applied to diversified settings. And it will work well with most microphones. It is a mixture of efficiency and durability at its best.
7. K & M Very Low Microphone Stand
If you are looking for low height boom stand then this microphone stand should make a good fit for you. The boom arm is made from two pieces so you can adjust the length according to your own liking. This stand is great for a bass drum or for specialty use. It is not like any ordinary stand as it is quite sturdy. Just try to push it down and you will most likely fail. This is due to its tough and high quality tripod legs. It may seem a little expensive but in return you get a long lasting product that is sure to last for a long time.
WhyWe Liked It – It is not only sturdy; it is quite portable as well. The tripod legs are foldable so you can easily carry it anywhere. It will not take much space in your belongings as it is small and when folded even more so.
8. DR Pro DR259 MS1500BK Low Profile
This low level boom stand is every bit professional. It is also super customizable in terms of length. From boom to tripod legs, you have ample range. Each leg extends up to 19 inches and the boom arm can go from 19 inches to 31 inches. The height can be adjusted between 9 inches and 17 inches. All the tubes are considerably thick and finished with powder coating to provide necessary protection. DR makes professional quality products and therefore the price is a bit higher as compared with other such offering. However, you get something that will last for years to come.
WhyWe Liked It – It is very professional looking in every way. From the thick tubes to the shiny black finish, everything shows that it is designed for on stage use.
9. RODE PSA1 Swivel Mount Studio Mic Arm
This desk mountable boom arm microphone is very useful in all types of settings. There are two desk mounting options. The reach both horizontally and vertically is ample. Horizontally it can reach 32 inches whereas vertically it can stand 33 inches. You can swivel it in both directions and get the perfect angle that keeps the microphone where you are comfortable with it. There are Velcro cable wraps to further secure cables to the structure. It can withstand a weight of up to 4.4 pounds including the shockmount. It works best with RODE microphones but can be used with almost all other microphones within that weight limit.
WhyWe Liked It – This table/desk stand for microphones is a proof of RODEs claim of innovation. It makes things so much easier on the table and you can adjust the mic to whatever position you like. It should work well in setting where there are speakers changing continuously.
10. NEEWER Suspension Boom Scissor Arm
This is a very convenient desk mount mic stand that can easily be fixed to table using the table mount clamp that is included in the product. It is suitable for virtually all uses whether you are using it in a clinic or a declamation. The black scissor arm is easily adjustable so you can set it to a position you deem comfortable. It will work smoothly with many microphones but it is not suitable for Blue Yeti USB Mic. Not only is it easy to use, it is easy to carry as well thanks to the folding arm.
WhyWe Liked It – It is incredibly cheap even for a desk mount mic stand. It is surprising to see such decent quality in such a low price. Perhaps this is why it is a popular choice for people from varying industries. From radio jockeys to recording artists, everyone seems to find it amazing.
Useful Item Guide
Types of Microphone Stands
Standard Stands
These stands are the simplest out there and are the just straight stand-up. These can further be classified as tripod stands and round base stands. Tripod stands have three legs as the base and are pretty common. In fact, these tend to be the cheapest ones as well. The round base ones have a round base made from metal or plastic and are a bit more stable. These are a lot more stable on stage and are good for singers.
This kind of mic is best suited for those who perhaps will use it standing. It has a very long height usually which is adjustable. These are a lot more stable and would not flip over, for instance, Ultimate Support PRO-ST Pro Series Microphone Stand with Oversized Steel Tubing has a heavy rounded base that keeps the stand in position at all times.
Boom Stands
These stands are similar to standard mic stands but have an arm attached. The advantage is that these can provide a longer reach and can be adjusted to any angle. Boom stands are the best choice when you have varying heights like if you have an adjustable music sheet stand, as well as angles in which you need the microphone. A lot of time people are sitting so in such a setting this kind of mic stand is the best.
There is a lot of room for adjustment both in terms of horizontal and vertical reach. Take for example DR Pro Tripod Mic Stand with Telescoping Boom whose boom arm can be adjusted for height as well as the angle at the same time. There is a lot of comfort with this particular kind.
Desk Stands
Desk stands or commonly called desktop stands as well are stands that can be attached to a desk. These are smaller than stand up stands and are usually used in studios for podcasting or radio shows. However, the use of this particular stand is growing rapidly as it is easy to use with almost any kind of desk.
In sedentary setting, this stand is the best thing you can have. Other stands can be a bit of a fuss when you have furniture lying very close. Since this mounts on a table, it becomes part of the furniture. It is very easy to mount too as you can see with RODE PSA1 Swivel Mount Studio Microphone Boom Arm.
Low Profile Stands
These stands have a short height both for the stand and the boom arm. It is used for kick drums (click here to find your mic!) or guitar cabs. These too have adjustable height but the range, of course, is lesser as compared to stand up microphone stand or a boom arm stand.
Height Range
You will see that almost all the microphone stands have adjustable height. However, the range can vary quite significantly. This is an important consideration and should commensurate to your own height. With the boom arm stand you might get away with a smaller height, like if you had your keyboard on an adjustable stand, but with a standard stand, you need something that can reach your face at least.
The height depends on the setting or uses too. Like a low profile stand may be good for kick drums but cannot be extended enough for overhead drums. Some heights may be too low for covering a choir.
Types of clutches
The clutch is what allows you to adjust the height. This, of course, is very important because without it the mic stand will not hold the height you want it to hold. There are two kinds of these: twist and grip. The former is most widely used and as the name suggests twists to tighten. The good quality ones tighten pretty fast while others take several turns. Grip clutches utilize a one-handed squeeze to tighten into place. The obvious advantage is that it is much faster to achieve so in a live setting this type of clutch tends to be the best.
For boom stands, there is another kind as well. It is a screw or a knob that can tighten a collar or push it closer to the tube. These vary a lot from one model to another and you have something similar for adjusting the angle as well.
Weight
Weight is an important consideration when buying a mic stand. A lot of people generally assume that a heavier stand would not be a portable or suitable choice on stage. On the contrary, a light stand can be less stable as compared with heavy ones. However, now there are stands that are extremely lightweight especially those tripod stands but still quite stable. If you are going to move with the stand a lot, then the obvious choice should be a light weighted one.
See Also: Best Guitar Stands for Electric and Acoustic Instruments

Portability
Another misconception about mic stands is that a heavy stand would be difficult to carry around. That is not always the case as some light weight ones can be difficult to carry too. It all depends on the make and its capability. If it is foldable, it becomes all the easier to pack it in and carry along wherever.
A lot of people think tripod stands are not that highly portable. That is not always the case as some newer models have foldable legs that can be flipped in and the stand becomes much smaller. As for the ones with rounded base, it is also easier to carry them. The stand can be removed from the base and packed separately with the other equipment. Perhaps this is why this type of stand is most commonly seen.
Pricing
The pricing is yet another important factor because to get high quality you have to spend a little more. In a professional setting, it makes sense to go for something expensive from a known brand. For amateurs, even a moderate quality light weight stand should do the job. The prices vary greatly but most microphone stands cost less than $100. Few stands from very high-end brands cost more than that but you should be able to get a decent quality one of any kind within this range.
Accessories
One of the reasons why mic stands are used so widely is that they are not only useful for holding microphones but some other stuff as well. There are numerous accessories you can use with the stand and make it a lot more functional. Some of these are:
Cup holders: You can easily find cup holders that can be attached to the stands tube. This accessory works out well when you are constantly speaking or singing and need water for hydration. It is cheap and works with virtually all stands be it standard or boom.
Phone holders: A lot of time for different reasons you need your phone in front of you. You can now attach the phone to the stand. This can help you read lyrics off it or record the sound on the phone as well or play from it. Not only phone you can attach tablets as well to these holders. And much like cup holders these too easily attach with almost all the stands.
Boom arms: Another very useful accessory for microphone stands is another boom arm. This attaches to the stand at any point and can help make it multiple microphone stand. Such an addition is necessary when you are playing the guitar and need that recorded as well. You can easily fix the mic at a position that is aligned with the guitars position.
Pop filters: For recording vocals, pop filters are necessary to maintain quality. It can help do that by protecting the sound from plosives that are often very bad and can ruin the vocals. It also deals with the proximity effects. Usually, these come in a variety of choices, from nylon to metal. The metal ones tend to be a lot sturdier and do the job very well. However, nylon ones can be used too in lieu of metals. It is at least better than having no filter.
Headphone hanger: Another great attachment for mic stands is the headphone hanger. It can be so convenient while recording because you do not have to remove the headphones then place them somewhere, you can just hang them on this hanger and go about.
All these accessories are quite cheap and easily available. There numerous other accessories as well like goosenecks, vocal booths, and stereo bars. They can make your recording sessions or time on stage very easy.
Carry Bags
If you have a lot of mic stands carrying all of them can be quite a hassle. The best solution for that is a carry bag. It can accommodate multiple stands and provide necessary protection and convenience. Rather than transporting each stand separately it is a lot better to have all in one bag that is easy to carry around. Those who move around a lot and have invested in multiple stands should have such a bag. Your stand will only last long if you maintain it well so make sure you take care of it while in transit.
Choosing the right stand
Now that you know each type of mic stand, their prices, and capabilities, it will be easier to choose the best product. However, there should be an evaluation of your own circumstances as well. The stand you choose first depends on what use you need it for. For example, if you are buying something for podcasts purely then a desk stand should be the ideal one. If you are buying for a child, then a tripod boom stand can be the right choice. If you are going to use it in multiple settings like in studios or in classes then go for the one that is most suitable for all these settings. You necessarily do not have to buy separate stands for each use. They are pretty multifunctional especially if you add accessories.
What Is The Best Stand For A Podcast Setup?
For a podcast setup, the recommended stand is the desk stand. These are designed for such a use that does not necessarily require a lot of movement. These stands as you know attach to a desk and can be increased in length and can be adjusted to any angle. For this reason, it is well suited for this purpose because it might need to be adjusted or swiveled around a bit during the recording of the podcast.
Another reason why you might want to use this particular mic stand is that it can easily be clutched with any desk. This makes it very usable in every kind of recording setting not just for podcasts. Secondly, you can fit most microphones in it which is yet another advantage. They are sturdy enough to hold the microphone as well as shock mounts.
You can also use a boom stand for this purpose if you do not have a desk to attach the stand with. This kind of stand has essentially the same benefit in terms of convenience and reach. The arm can be swiveled and adjusted to any angle you like. Similarly, the length of the arm is long enough to reach a decent distance.
Podcasting has gotten very popular over the years and to have the best podcast your equipment should be the best as well. People assume that the stands are perhaps not that important but the truth is they are quite vital for your smooth delivery. No matter how great the microphone is if it is not positioned well your recording will be lackluster.
What are microphone stands?
It is completely normal if you are unfamiliar by or do not really understand the purpose of a microphone stand. These stands hold the microphone while you speak, record or perform. The microphone gets attached to the top of the stand and removes the need for you to constantly hold it.
It can be exhausting to hold the microphone in your hand all the time. It can affect your performance whether you are using it on stage or in the studio. This is why it provides protection as well as the convenience during such stints.
Now, these stands have numerous types with each having its own set of benefits. The most commonly found stands are straight up stands with tripod legs at the bottom. Another similar kind is the rounded base ones which instead of having tripod legs have a solid circular base. Another kind is called the boom stand which has another arm attached horizontally to the vertical tube. This arm is termed as the boom arm and can be adjusted in length and angle. It provides a lot more room for adjustment according to your own position rather than adjusting yourself for the stand. The last type you should know are the desktop stands that attach your microphone with a desk.
Virtually all stands can be changed in height to suit your need. Some have very low heights that are designed for kick drums or other such specialty uses. The range varies and is of course really important both for efficiency and comfort.
Microphone stands are very useful not just for performance or recording but also at other times when it is not in use. Rather than keeping the mic on the floor or somewhere where it can potentially be damaged, the stand provides a good solution for keeping it safely.
Are microphone stands compatible with all mics?
Yes most of them are good for almost all microphones but you need to be absolutely sure before you make the purchase. This is usually indicated in the product description if it is incompatible with any particular microphone. For instance, some mic stands are not that great for Blue Yeti microphones. If you have one particular mic you need the stand for it would not be hard to find one. However, when looking for a whole set of microphones only buy the one that explicitly is designed to fit universally all microphones. Most microphone stands have standard threads that can virtually fit all mics and shock mounts easily.
It should be compatible weight wise as well. Some microphones are pretty heavy and require a heavy duty stand. A lightweight stand may not be able to hold this kind of mic very well so make sure you check out the weight of the stand and see if it is appropriate enough for the mic you have.
Can I attach any other accessories with the stand?
There are numerous accessories available online that increase the functionality of your mic stand. Yes, you can hang or fix a lot more than just microphone to these stands using accessories. There are attachments available for attaching another microphone, your smartphone or hang your headphones. For instance, if you need to attach another microphone for recording your guitar you can add a boom arm like the On Stage Posi lock Sidemount boom. It can be clutched onto any position of the stand and used for attaching another mic.
Similarly, you can use glass holders, headphone hangers or phone or tablet holder. This makes it multipurpose because you not only get the convenience of holding the mic but also other necessary things like a phone to record or read lyrics off.
These accessories are designed to fit universally any kind of mic stand so whether you have a standard stand or a boom stand, it should attach seamlessly. Also, these accessories are quite affordable so your overall mic stands budget would not be expanded that much.
This works out great both in the studio and on stage. When you are in the studio you frequently need to take off your headphones or use the phone. While on stage you can get thirsty and need water which can be put right on the stand you are standing next to. This is why mic stands are used and loved by musicians and speakers everywhere.
Im 6 ft tall, which mic stand should I get?
The best stand for your height would be the standard stand with either tripod or solid base. These can have quite a wide range in terms of height so even the tallest individuals can easily use the mic stand. Boom stands are good for tall people as well because with the stand and boom arm you get the considerable length to reach you. These stands heights are easily adjustable and depending on the clutch type you can do it in just one go. Some are quite mobile too i.e. you can remove them from the base and take with you as you move around on stage. You will not have to hunch or be fixed at one position.
What are specialty mic stands?
Some stands are termed as specialty mic stands because these are designed for special purposes. For instance, studio booms are taller than 6 feet and can be utilized for overhead mics for drums, choirs and orchestras. They have wheels to make them mobile and are designed to withstand heavy duty microphones. They usually have adjustable counterweight to achieve the necessary balance and have adjustable height too of course to reach out even farther positions.
If you liked the review, please leave your feedback.