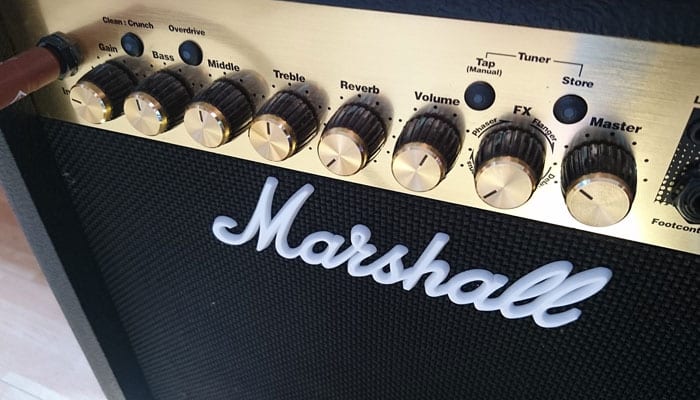 There is a huge difference between an acousticguitar amp and an electric guitar amplifier. The acoustic guitar amps do not color the sound and keep the originality of the acoustic guitar but simply makes it more clear and loud.
When you are going to shop around for the best acoustic guitar amps there are some key considerations that you should always keep in mind. These key considerations are the power of the amp which is measured in watts, the number of channels it has, the number of input and output options, the built-in effects, portability size and weight.
If you do not have time to look into the details of all these key considerations, you can just browse through our list of best acoustic guitar amps in order to make the right decision.
1. Fender Champion 20 – 20-Watt AcousticGuitar Amplifier
It is one of the best guitar amps by one of the very best in the business, Fender. This brand has set new standards of instrument manufacturing. It has been producing some quality music instruments since 1946.
This guitar amp by Fender is versatile, compact and easy to use. You can just plug your guitar into this amp and enjoy any kind or style of music with an improved guitar sound. Whether you are looking for an amp to standby you in your first practice session or want to take it out on stage, this is just the right one for you.
Pros
+ The EQ section of this amp will enable you to shape your sound the way you like it. it also comes in with lush effects that are digital reverbs, vibratone, chorus and delay.
+ It comes in with an auxiliary port so you can easily plug in your MP3 player and jam along with your favorite tunes.
+ It also has a 1/8 inch headphone output jack for the times when you want to practice alone and do not want anyone to hear you at all.
+ It is capable of supporting almost any genre of music since it comes with knobs to go from extreme clean to extremely distorted sounds.
Why We Liked It – The Fender Champion 20 – 20-Watt Electric Guitar Amplifier is simply a champion as far as guitar sound amplification is concerned. From the power i.e. the watts till the built-in effects everything about this guitar amp is just picture perfect.
2. BUGERA TRIREC INFINIUM Acoustic Guitar Amp
This brilliant amp comes in with a varipower dial through which you can go from 1W to 100W. This actually means that you can use this amp anywhere you like i.e. in a small apartment at 3 am and also in pretty crowded environments.
It also comes in with three rectifier modes that are silicon diode, tube and tube and silicon diode. A rectifier is nothing but a device that converts alternating current to direct current giving more power to your amp.
Pros
+ It is a 100 percent Hand-built and hand-wired so the sound that you get from it is quite original and not tempered at all.
+ Comes in with three fully independent channels that are vintage, classic and modern.
+ Comes in with three rectifier modes and that is why you get the optimum performance ever time you use it.
+ It also comes equipped with high-definition reverb and a dedicated reverb control as well.
Why We Liked It – The amazing features and the versatility of being good almost in every application whether it is an in-house studio or on stage one make this guitar amp one of the very best that you will ever witness.
3. Marshall MG15CFX MG Series 15-Watt Guitar Combo Amplifier
If you are looking for a guitar amp to perform in small setups and ideally for practicing this is just the right guitar amp for you. This amp is capable of producing great tone and that is because it combines years of experience that Marshall has with the latest digital technology.
When talking about the looks that this amp carries, it is simply amazing. The features too add to the uniqueness of this productmaking it different from the rest of the other brands. It is basically a beginner amp that is also good with small performing setups. Most of the leading guitar players of the world use this amp as their practice amp.
Pros
+ When talking about the power or the wattage that this Marshallcarries, it is 15 watts making it a very good practice amp.
+ It comes in with 4 programmable channels that are OD1, OD2, clean and crunch.
+ You can directly connect your MP3 player with this amp and play along with your favorite song since it comes in with an MP3 input.
+ It also comes equipped with digital effects such as Phaser, Flanger, Chorus, Vibe, and Octave.
Why We Liked It –The Marshall MG15CFX MG Series 15-Watt Guitar Combo is already a go-to choice of the worlds most leading players as far as practicing is concerned. Therefore, it is one of the best guitar amps of the modern times.
4. Fender Frontman 10G AcousticGuitar Amp
If you are on a budget and want a really good amp for practice this is certainly the amp you should be looking at. When talking about Fender as a company it just never stops amazing its consumers with state of the art musical instruments. Whether you talk about the guitars or the guitar amps Fender has got a complete range of products to satisfy the needs of audiophiles and audio pros at the same time.
It is the smallest guitar amp by Fender which in-stores a great quality sound. When talking about the looks of this guitar amp it has the same impressive looks as most of the other Fender product. The ease of use that you get with this guitar amp is also unmatched.
Pros
+ 10-watt Fender with enough power for a good practice amp.
+ Comes in with 1-6 Fender special design speaker so the sound you get from it is pretty loud.
+ This Fenderhas a closed back design in order for you to get heavier bass all the time.
+ It has all the controls in the world such as Gain, Treble, Volume, Bass for a simple and easy operation.
Why We Liked It –The Fender Frontman 10G Electric Guitar Amp is the most impressive for practicing keeping in view the price tag that it comes along with, therefore, it has earned a rightful spot on our list.
5. Fever GA-20 Acoustic Guitar Amplifier
It is another productthat comes in at a very reasonable price and also equipped with a number of features. The power or the wattage that you get with this amp is 20 watt and that is enough to disturb your neighbors, so be careful when turning up the volume on this baby.
Pros
+ It comes in with a power of 20-watts so be careful when turning up the volume to the max.
+ Overdrive effect which makes it quite different from the others.
+ The covering that this producthas is completely scratch resistant which makes it quite durable.
+ Comes in with control functions such as volume gain and tone for easy and simple operation.
Why We Liked It –Whether you want to practice along with your favorite song or you are someone who likes quite practice with the headphones the Fever GA-20 Acoustic Guitar Amplifier is just the right productfor you. It is a great practice amp for beginners at an amazingly low price.
6. Dean DA20 Acoustic Guitar Amp – 20W
It is an amp that is ideally designed for acoustic guitars. Everything about this amp is just picture perfect. Whether you talk about the power of this productor the input and output jacks, the built-in effects or the size, weight, and portability everything that you get with this amp is just top notch.
Pros
+ It is a 20-watt speaker and that is quite enough power for a good practice amp.
+ It comes in with 4 band EQ so that you can adjust it according to your playing style and requirements.
+ It also has two 5 inch speakers making it loud enough to satisfy you in any practice session.
+ It also comes in with presence control to boost up the mid-range frequencies according to your personal needs and requirements.
Why We Liked It –The Dean DA20 Acoustic Guitar Amp – 20W is an ideal acoustic guitar amp that will provide you with amplification of the acoustic-electric guitar sound without any color, keeping the true feel intact.
7. Fender Acoustasonic 15 15 Watt Acoustic Guitar Amplifier
It is just impossible to keep the brand known as Fender, away for long when talking about some of the best guitar amps in the world. Once again it has come up with an amp that is brilliant for acoustic guitars.
It is lightweight and highly portable guitar amp that comes in with a mic input as well. So it not only amplifies the guitar sound but also the vocals. It comes in with two selectable channels and also a chorus effect which makes it quite flexible public addresses and a number of musical performances.
Pros
+ It has a power of 15-watts that is enough for practicing and also small performances.
+ It comes in with a 6 Fender speaker that is capable of providing a high-frequency response.
+ It also has a headphone jack for the times when you do not want to be heard while practicing.
+ It is lightweight and ultra-portable, so you can carry it along with you to all the gigs and performances quite easily.
Why We Liked It –If you want just that perfect sound from your amp and also pretty concerned about the portability of it the Fender Acoustasonic 15 is just the right productfor you.
8. Behringer Ultracoustic At108 Ultra-Compact 15-Watt Instrument Amplifier With Vtc-Technology
This is a compact 2-channel amp which is highly portable at the same time. When talking about the power of this amp, it is 15W that is ideal for amplifying almost any acoustic instrument. It features a state of the art technology known as the (VTC) virtual tube circuitry so you get a truly tube-like sound from it.
Pros
+ It is a dualchannel that is ideally designed to suit almost every acoustic instrument.
+ It comes in with a 8 dual-cone speaker which has a power of 20-watt and is extremely good with wide frequency response.
+ It also has an additional microphone input that has a separate volume control.
Why We Liked It –Behringer is a brand that is known for producing some of the very best music instruments of all times and it has been there for quite some time now. The Behringer Ultracoustic At108 is another great acoustic amp by Behringer that can surely compete with most of the top line guitar amps.
9. Stagg 15 AA DR USA 15-Watt Acoustic Guitar Amplifier with Digital Reverb
If you are looking to enhance the sound of your guitar in the simplest of manners this is the amp that you should go for. It comes in with a built-in digital reverb so you can shape your sound the way you want without spending much on the guitar pedals.
Pros
+ It comes in with a 3 band EQ that is bass middle and treble.
+ It has volume and gains controls so that you can operate it with the utmost of ease.
+ Comes in with a headphone mini-jack input for the times when you want to practice without being heard.
Why We Liked It – The Stagg 15 AA DR with Digital Reverb is one of the best acoustic guitar amps that is available at a pretty nominal price point.
10. Roland MOBILE AC – 5W 2×4″ Acoustic Combo Amp
If you are a beginner and want to add some extra punch to your acoustic guitar sound without spending much this is just the perfect amp for you. As it is obvious by the name of this amp that is ultra-lightweight and highly portable so that you can take it along with you in all the practice sessions at your friends house.
Pros
+ Powerful5-watt that is ideally designed for acoustic guitars.
+ It comes in with simple and intuitive controls making your life pretty easy.
+ It is a battery powered amp that uses 6 AA alkaline batteries for 15 hours of use.
+ It comes in with a microphone input so that you can sing along while playing.
Why We Liked It –The Roland MOBILE AC – 5W 2×4″ Acoustic Combo Amp is a great acoustic amp that features rich acoustic sound and is travel-friendly at the same time.
CompleteBuyers Guide
Our Top Pick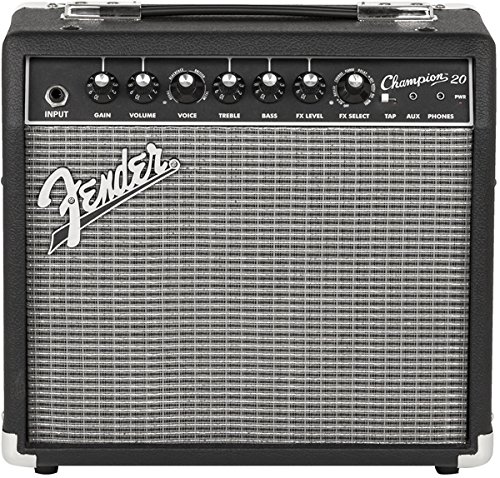 The top pick has to be something truly outstanding in terms of quality and performance and what better than Fender. The Fender Champion is the best of the best whether you look at its construction, use, flexibility or price. It is packed with many built-in effects that are central to any guitar style. The mp3 inlet allows you to play your favorite songs to play along. With a whopping 17 amp models that are just a knob move away, you can create a plethora of styles.
The flexibility it provides a guitar player really is what makes it the best. Many guitarists learn with experience and if they have an amp that can provide them with a way to experiment it becomes even more useful. You have several power options for your own specific needs with 20, 40 and 100 watts options. So whether you play in your studio or at concerts, they have something for everyone. The effects present are reverb, decay, chorus and vibratone. Almost any style can accommodate this amp as it is designed to be flexible.
Premium Quality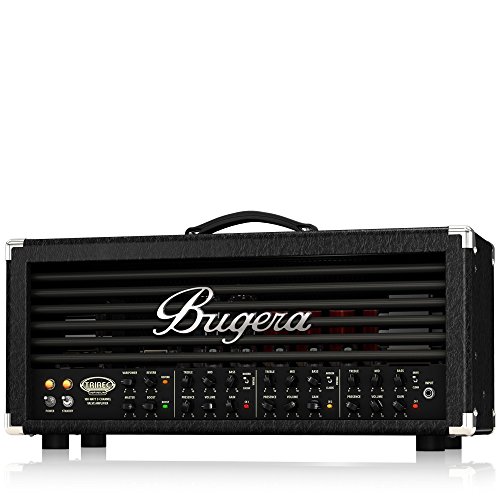 If you are prepared to spend heavy, you should go for something very high end like the Bugera Trirec Infinium. It is an amp that is every bit work of perfection and is best suited for professional use. Acoustic sound is all about retaining the natural essence and this amp will do exactly that but also improve and enhance the signal. It is for those looking for some extra power as it is 100 watts. However, here is the twist you can scale the power according to your need from 1 till 100 watts. How cool is that?
With three switchable channels it gives everyone what they want: classic, vintage and modern. If reverb is your thing then you will love this amp all the more as its reverb effect is downright amazing. It has a full-on reverb control too so you control the effect as well. Essentially a tube amp, it is hand built and hand wired through hands that have years of experience. It is expensive for this very reason but if you think of it as an investment, you could be reaping the benefits for years to come with little to no wear and tear. That makes it worth it to spend hundreds of dollars.
Great Value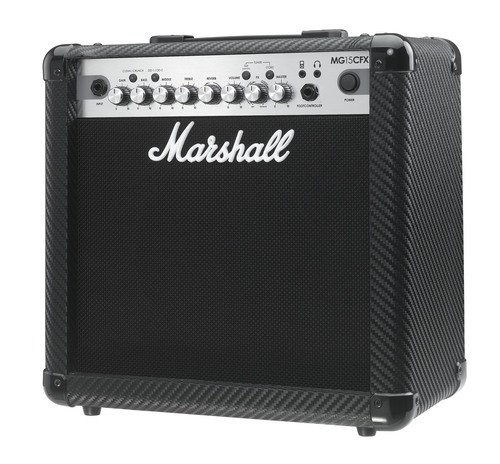 Marshall has an amp that is simple and offers great value at a not so expensive price. The Marshall MG15CFX from the MG Series is all about bringing you quality as well as convenience. It is a minimal 15 watt amp with easy to use channels. With four programmable channels and 8 in one combo, this is something that will be worth every penny you spend. It is not exactly cheap end but it is not too expensive either. Whether you want to practice or actually play for an audience, this will work out great.
It is comparable with those from expensive brands but its overall look is great too. The style is probably the last thing to look for in an amp but if it is something of a consideration for you then this product from Marshall will win your heart. Those who are just starting playing acoustic guitars will find this to be very useable and efficient. That does not mean that professional guitarists do not use it. Many have and continue to give it the best ratings.
This is everything you need to know about adding an amp to your acoustic guitar. It can really polish up the sound and make it more audible especially when playing in cafes and halls. If you combine the sound with effects, you can produce something truly amazing. Amps play an important role in showing the talent of the guitarists to his or her listeners. Choosing the best amp would ensure that the quality of your sound remains intact and that your audience love your work.
Acoustic Guitar Amp
Amps are an integral part of a guitarists guitar playing routine and choosing the best requires some thorough research. But not everybody has the time to go through dozens of products so this buying guide will help you understand what to look for. As for the question about needing an amp for your acoustic, it really comes down to your own playing style. A lot of people wonder why even go for an amp when playing an acoustic guitar because these are all about the natural sound. However, some acoustic guitars require a bit more boost in their volume and that is where the acoustic guitar amp works its magic.
Types of amplifiers
Essentially amps are of two kinds but there is a third new kind as well:
Solid State Amp
This type of amp utilizes transistor for preamp and power sections. This amp has a more clean sound and is usually considered the most reliable one. They are not exactly digital amps as that is a whole new concept however they do utilize technology, transistors in this case, for amplification. The quality has improved greatly ever since they came on the guitar scene for the very first time.
Tube based amp
The tube kind produces warmer and more organic sound. These involve tubes that amplify the sound signal and need to be replaced from time to time. If you want a warm and sort of vintage sound then tube amps are your best bet. This is the oldest kind of amp that guitarists have used for decades. These tend to be expensive too.
Modeling Amp
Modeling amps are rather new and are also dubbed digital amps. These use processors to amplify the guitar tones. They are not entirely digital as they still need solid state preamp. It is still pretty nascent but with quality processors and advanced softwares, they have the potential to become the standard amp. However, guitarists prefer the former two better and only use digitals ones for practicing. Regardless of the popular opinion, the big advantage of modeling amp is that it has so many effects too. Although one can easily distinguish the sound of a modeling amp from that of a solid state or tube one.
For beginners, solid state is probably the best as it is more reliable. However, it really is up to ones own taste as to what type of amp produces the sound they want to produce. With practice, you will learn the little differences and develop your own preference.
Features of Acoustic Guitar Amp
Feedback Control
This is often found on amps designed for acoustic guitars as the signal on these guitars comes either from a microphone or transducer pickup. Because of this there is room for feedback and that needs to be reduced with some kind of feedback control.
Dual Channel
This is the feature you should be most concerned about. The line or microphone input feature could possibly have XLR input and a phantom power option. Having an XLR input can be a great thing as it can be considered a PA system in its own right. That way you do not need to hook up a PA system when playing on stage. If you think this is something you could benefit from then look for this feature.
Built-in Effects
Now there are many effects that come built-in with these amps but you need to identify what effects you will need. It could be better to have these effects right in the amp rather than getting standalone pedals. You have effects such as compressor and loop. The latter can be great for solo guitarists who can create different rhythms and create solos over those. For acoustic guitar sound, the reverb is probably the most important effect you would want to consider. Reverb basically creates a robust live like sound that could further brighten the sound of your acoustic guitar. Again all of this comes down to your own playing style and the kind of sound you are looking for. Effects is a whole another chapter which can be discussed in detail so do not focus too much on that.
Overall Power
Power depends on your surroundings and audience. If you are going to be playing just for practice perhaps in your bedroom or living room, 20 to 30 watts of power should be ample. Now the power increase as the size of your playing venue increases. If you are playing at a coffee house up to 50 watts will be required at least. When playing in even bigger venues like a hall and with other band mates, you could go for an amp with a power as high as 100 watts. Obviously the more the power of the productthe louder the sound will be so choose according to your need.
Stereo Amp
You also have amps that are stereo and should you choose to buy one depends on how you want to use your amp and which effects you need. For instance, a mono would not work best for ping pong delay. However, those who just want the pure acoustic sound that is simple and warm can go for a mono option.
A combo can be very useful for those looking for everything in one. Combo boxes come with amps and speakers integrated into one. The obvious benefit is that you have everything you need in one place. However, you cannot be sure about the quality with a combo. For some sounds, they may be great but for others, they may not be so good. The real question is of power as to how much power you need to pack into these things. Remember there are only so many speakers you can fit into a box. Even though a combo is a standalone unit some of these come with outlets for adding secondary speakers to increase power. So long as the quality of your acoustic guitar is retained, you can have as much power as you like.
Quality
Quality should be an important factor when buying oneas other than the type and power, quality could have a real impact on the amps performance. And the difficult part is quality is not easily defined. For starters, the design and materials would tell you how good in quality the amp really is. If the materials are high quality then the amp is high quality as well and so will be the sound. So naturally, you have to get into the details of the amps even of its construction. To improve the sound further, take a look at some of the top guitar cables money can buy.
You should go for something that can stand the wear and tear of frequent and often rough use. If it can you have something truly good quality. As a general principle, expensive product from well-known brands would generally have better quality as compared with those that are cheap.
Pricing
The prices vary depending on their brands and the features they have. Usually, the solid state ones are the cheapest but even those vary greatly. Expect to pay at least $100 for a quality amp for your acoustic guitar. If you go further up, you can find truly high-quality tube based amps from some of the most high-end brands. These can cost you as much as $500 or even more.
For pricing, the budget rule applies as your budget will decide what sort of amp you should get. Unless your budget is really low, it would not be difficult to find a quality amp with a decent number of effects in it. The combos are an economical solution as well as they are affordable and bring you, speakers, as well.
Another important here is to identify your own needs and style. If you are getting something that is not really your playing style in the budget you have then there is no point in that buy. Only buy the itemthat is suitable for your style as well as the venue you are going to play at.
FAQs
What is an acoustic guitar amp?
Before defining an acoustic guitar amp you need to know what an amplifier does. So lets break the question into two phases. Guitar amp and an Acoustic Guitar amp.
Read Also: Best Guitars for Your Moneyin 2017
A guitar amplifier is an electronic amplifier which pickups weak signal from the electric, bass or acoustic guitar and strengthen it. The output signals are produced by external speakers or loudspeakers housed in a wooden cabinet (of amplifier)
Types of Guitar Amplifiers
Standalone
A guitar amplifier which only contains a power amplifier or preamp for boosting the signals. One needs to connect an external loudspeaker to hear the output.
Combo
An amplifier which contains both speakers and power amplifier packed into one metal or wooden cabinet.
Combo guitar productscan include a single 8″ speaker for casual use or up to four 10 speakers for nightclubs or heavy usage.
Apart from boosting the weak guitar signals a guitar amp is capable of doing much more. Guitar amplifiers can modify the tone as well. They are equipped with controls to emphasize or deemphasize frequencies, add electronic effects, manage distortion and edit reverb same as like bass and treble knobs on your home hi-fi system.
So you might be thinking that how the signals are transferred to the amp? The electric guitar uses an electromagnetic pickup to pick up signals while an acoustic guitar uses a piezoelectric pickup. The signals are then transferred via a patch record wire that plugs into a jack of the amp to make the connection possible.
So now we know the basics of a guitar amp and how it works lets concentrate on the main query.
An acoustic guitar amp is intended for amplifying the signals of an acoustic guitar. Mostly, acoustic guitar amps are used in folk and bluegrass genres. Acoustic guitar amps and keyboard amps share many similarities with each other. These itemshave a flat frequency response and they are specially designed so that power amplifier and speakers don't collide with each other.
Acoustic onesare known for providing clean sound, additional headroom, and less distortion. All this is achieved by powerful products(rated up to 800 watts RMS). Most of these use Class AB circuits for providing heavy sound while some used Class D circuits to cut off that heavy sound, they are also called switching amplifiers.
Acoustic guitar amps are specially made to use with acoustic instruments which have a built-in pickup or microphone to produces clean, transparent and acoustic sound. Similarly, the amp box also includes a simple mixer control to blend signals from instruments and microphone into one. Most of them offer a range of digital effects like reverb, compression etc.
So on the whole, an acoustic guitar amp includes some digital effects to pre-edit and boost the signals of an acoustic guitar.
How important is an acoustic guitar amp?
Acoustic guitars produce sound by the hollow body (hole in the body). The output is fair if you're practicing alone but rocking the stage with a standalone acoustic guitar will not go in your favor.
Acoustic guitars are meant for quiet and solo performances as they don't produce a gigantic sound. So if you want a crowd to hear your acoustic guitar skills you definitely need an acoustic guitar amp.
So what does an acoustic guitar amp serves? Basically, an acoustic guitar amp boosts the acoustic guitar signals (picked up by a built-in piezoelectric pickup) so that they can be outputted by a loudspeaker.
When you connect your acoustic guitar to the amp, the signals from your guitar (picked up by a piezoelectric pickup) are routed by a patch record wire (in some cases wirelessly) to the acoustic guitar amp. In the box, the weak signals are boosted to strong signals. Now they are routed to external speakers or built-in speakers to produce the output.
If you are looking for a more studio sound, take a look at the recommended studio monitors or a home set up right here.
If you are among the ones who prefer to get their hands dirty alone then you shouldn't be looking to buy an acoustic guitar amplifier. Similarly, if you are an acoustic guitar pro who have upcoming stage shows then you should consider adding an acoustic guitar amplifier to your collection.
How do you set up an acoustic guitar amp?
It might seem easy but in reality, setting up the acoustic guitar amp is a little typical. Although acoustic guitar amplifiers use a plug-and-play mechanism, well guide you on how to properly set up your first amplifier.
Most of them have detachable power cables. First, plug in the female side of the cable into the amp and then plug in the male side to the power outlet.
The majority are loaded with speakers (known as combos) if you have a standalone amp set up a cabinet for speakers and amp. Now connect your speakers to the amplifier.
Now it's time to connect your bad boy into it. Now run an audio cable from your guitars output jack to amplifiers input jack. (Note that always plug the cable into the amplifier while its turned off.) Some have more than one input jack, connect the audio cable to both inputs one by one for checking the best output.
Now turn on the power button of the amplifier. If you are unable to inspect the power button go through the amps manual for getting a better assistance.
After turning on the amplifier its time to set the volume. Commonly youll find two volume controls, Drive and Master or Pre and Post. The first control adjusts the signal before it has been amplified while the second one adjusts the signal after it has been amplified. Well concentrate on the second one Master or Post. Turn up the volume at a certain level.
If you want a distorted effect you can adjust the Drive or Pre control.
Now adjust the EQ of your guitars tone. On every amp, youll find bass, treble and mid controls. For outputting a natural tone set all knobs to a twelve-o'clock position (directly in the middle). Similarly, if you want to produce higher frequencies set the controls to high and vice versa.
If your productincludes a channel button use it to switch between clean and distortion channels.
Now set up the gain level. The gain knob is featured to increase the distortion and volume. Not all amplifiers are loaded with a gain control. Mostly rock and blue musicians prefer increasing gain.
Up till now, all the basic settings are rendered, its time to get into the complex options. Additional controls like reverb, delay, chorus are given to get even more out of your instrument. The most common feature available in all amps is the reverb effect. Reverb stimulate different sounding effects like hall, room, auditorium etc.
Wasnt it simple? It is easy to set up any amplifier but if you want to learn all the measures along with the setup guide we have surely accompanied you in a good manner.
When should an acoustic guitar amp be considered?
As stated in the above questions an acoustic guitar amp is used to boost the weak signals from an acoustic guitar so that they can be displayed on a loudspeaker.
Forget about the amp, when you consider XYZ to be on your checklist? Probably when you need it the most, right? So the same conclusion defines the consideration of an acoustic guitar amplifier.
An acoustic guitar amp is mostly needed by the people who perform in front of a crowd, unlike solos. For an instance, a person who has trained himself on an acoustic guitar wants to perform on stage in front of a crowd, what will he do? Shift to an electronic guitar or buy an acoustic guitar amp? Considering an electric guitar will be his worst nightmare as they are way different from acoustic. The best consideration would be getting his hands onto an acoustic guitar amp as it will boost the acoustic properties without any hassle.
On the other hand, if you are a solo musician who records or play his instruments on a low key then you wont find an acoustic guitar amp appealing.
Can I use an electric amp for an acoustic guitar?
Saving cash huh? Well, its perfectly alright! Its a good idea to pair your acoustic guitar with an electric amp if you have one laying around.
But can I pair up the odd elements together? You can! Similarly, pairing up an acoustic guitar with an electric amplifier wont damage your guitar or amp.
Mostly, people who cant afford to buy an additional acoustic guitar amp use the electric amp as an alternative. Without any problem, an electric amplifier accepts the signals from an acoustic guitar.
So why they make separate amps? Basically, an acoustic guitar is known for outputting a cleaner sound whereas an electric guitar produces a distorted sound. Similarly, an electric amplifier is crafted to boost the distorted signals while the acoustic amplifier is designed to boost the clean signals.
So one can use an electric amp for an acoustic guitar if he/she know how to properly adjust the controls for experiencing the desired output.
Apart from the question, you can also use an acoustic amp for an electric guitar but make sure to adjust controls according to your preferences.
What are the best acoustic guitar amps?
In the store, every brand marks itself the best but from the facts and reviews, we have contributed two of the best acoustic guitar amps to serve you what matters.
Marshall AS50D
Marshall is known for producing prime music products. Although marshal mostly focuses on electric guitarproducts, they have not forgotten their old school, customers. AS50D has a lot to offer for users who want a top of the line acoustic guitar amp.
The control panel of AS50D looks similar to other amps but thanks to the XLR input you can identify it as an acoustic guitar amp. This amp features two different channels with controls like bass, treble, and volume. Adding up the controls, an FX section features a chorus and two different type of reverbs. Controls are easy to master once you get into the real league.
On the features side, AS50D is equipped with a 50 watt powered amp alongside two 8 inch drivers. Similarly, the second channel has two separate input ports, one for instrument and other for the microphone. Likewise, if you want more power you can attach a mixer and run it through a P.A system by D.I and line outputs.
Read Also: Top 10 Best Powered PA Speakers that 2017 has to offer
All goods are packed into a compact housing making this amp easy to transport.
With the likes of dual channel, 50-watt power, and compact design youre about to face a redefined acoustic experience.
Fender Acoustic SFX
So you are talking about amplifiers and missed Fender? Fender has been in the amp game since ages making musicians innovate every day. This brand has a lot to offer when it comes to an acoustic guitar amplifier. Acoustic SFX by Fender takes a step forward to define what it has got!
On the outside, this productis designed keeping simplicity in mind. Wooden brown borders and pitch brown display outputs a professional look. Heart of the amp or more likely the control center features two channels each combined with an XLR/TRS jack. Individual channel controls offer volume, four-band eq section, and a reverb knob. Stereo FX cluster in the middle has controls of two type delays, chorus, and a vibrato.
Spec chart is also one of a kind. This amp packs up a 160 watt of power divided into two channels (80 watts for each channel). Similarly, Acoustic FX is fitted with an 8-inch low-frequency driver, 6-inch midrange, and a compression driver horn.
Alternatively, check out the top subwoofers for some real bass sounds here.
Acoustic SFX by Fender fits all type of musicians. With, 160 watts of power, two types of delay and a four-band eq section this amp is gaining many upvotes among professionals.
Some guitar amp myths
Bigger is Better Bigger is not always better. You need to check the surrounding in which you are going to play. Most guitarists don't need more than 50 watts.
Brand Name Even the popular brands make useless products. They also make some awful mistakes resulting in a waste product. Dont get carried away by a cheap branded amp that promises you loads as after all a cheap product is cheap.
Comparing pedal with built-in effects Built-in effects are good but they cant match the supreme quality of separate pedals. They are specially made to only output effects. So any company which marks built-in effects superior to pedals is surely applying an old marketing tactic.
If you liked this review, please leave a positive rating: